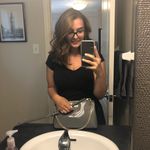 Kelly
St Catharines, Ontario · From June 2018
Dog mom to a German Shepherd and Black Lab! Been with my fiancé for almost four years now, we love to adventure whether it's a couple hours from home or... View more
Dog mom to a German Shepherd and Black Lab! Been with my fiancé for almost four years now, we love to adventure whether it's a couple hours from home or on the other side of the world 🌎.
Happily married 🎉
September 20, 2020
Bridezilla About The Bachelorette
Casey
, On September 9, 2018 at 11:36
So my maid of honor started planning, didnt want to step on toes but I did say like lets have dinner and drinks out, everyone can end up at my place later. As the plans went on and she let me know, it...