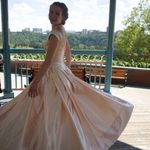 Nicole
Edmonton, Alberta · From October 2016
My fiancé and I have been together for almost 4 years. He surprised me in September by proposing while we were in England.
Happily married 🎉
July 21, 2019
Seating arrangements, who to put where and why?
Jknbhjbb
, On December 9, 2016 at 11:16
I am currently going through the process on here of setting up a mock table arrangement with seating etc. Does anyone else feel anxious about this? I feel like the one off couples are being neglected...