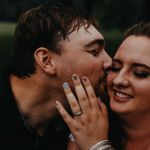 Rachael
Corbyville, Ontario · From July 2021
🕐 WEDDING COUNTDOWN...
October 7, 2023


I participated in Christy's discussion
169 days ago
3 pt
My wedding website
I'm having a hard time getting the countdown on my website, too, so
...
Go to the discussion

I earned a badge!
181 days ago
Vogue
A picture IS worth a thousand words! You've earned this badge for sharing your first photo with the Community.

I participated in Alyx's discussion
181 days ago
3 pt