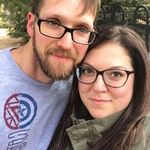 Alex
Orillia, Ontario · From December 2018
Alex and I met at our workplace, became friends, fell in love, have been together for 4 years! We just bought our first house in May 2018 and moved into... View more
Alex and I met at our workplace, became friends, fell in love, have been together for 4 years! We just bought our first house in May 2018 and moved into our home two weeks after our offer on the house was accepted! We brought home our first fur-baby (beautiful black kitten) Roxy in October 2018. And Alex proposed in November 2018, in an intimate way at home. It was a total shock! And I couldn't be happier. I'm so excited to be planning our wedding! We are so excited for our future and the wonderful things to come!
Happily married 🎉
October 16, 2021

Couples getting married on 24/october/2020 in Ontario
Steph
, On October 31, 2019 at 12:13
Hello Wedding Wire ladies and gents! We have all picked a beautiful date (the best date in my opinion) for our own special days. And now we're less than a year away!!! Woohoooo!!!!!! Looking forward...