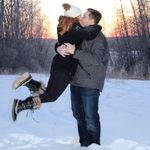 Sarah
Kamsack, Saskatchewan · From February 2018
Historian, museum educator, cat lady, ginger.
Happily married 🎉
June 29, 2019

Feminist wedding?
Sarah
, On May 9, 2018 at 11:38
Hi all, FI and I are both feminists, and are trying to be mindful to remove patriarchal tradition, and generally wedding elements that don't sit well with us from our day. (No bouquet/garter toss or...

diy Makeup-products List
Andie
, On May 8, 2018 at 09:44
Hey ladies! Are any of you doing your own makeup on the big day? If so, do you have a list of products that are a must? I've decided to do my own, and I have a short list so far but I'm looking to try...