Post content has been hidden
To unblock this content, please click here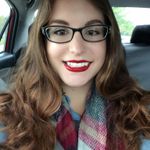 diy Makeup-products List
Hey ladies! Are any of you doing your own makeup on the big day? If so, do you have a list of products that are a must? I've decided to do my own, and I have a short list so far but I'm looking to try new things when I practice the look. Also, feel free to recommend perfumes as well... I have no sense of smell so I have a tough time choosing fragrance!
Latest activity by Andie, on May 10, 2018 at 08:06
View quoted message

I'll have to keep that in mind! Thank you! Also, that's exciting your sister is doing your makeup! It's a nice way to relax but without the added price tag!

Super

August 2018 Manitoba

Flower bomb is an awesome perfume! I love the smell of it

. My sister is doing my make up!

View quoted message

The sephora brand lip stain. And long wear lipstick are both awesome.

Lasted through most of a meal. And at under 20 bucks. You cant go wrong.

VIP

November 2019 British Columbia

View quoted message

Yeah you do, it's really good! You can find it in Sephora or if you have a Shoppers Drug Mart that's got a good makeup section, they're there too. I don't really have to reapply it when I eat unless I've had to wipe my face. It's such a good lipstick!

VIP

November 2019 British Columbia

View quoted message

Same! I have two of the matte and I also have a metallic one. The metallic one doesn't dry out but it still lasts a while. It's pretty good!

Expert

October 2018 Saskatchewan

View quoted message

I have it in 3 colours already. But will probably end up with a few more. It is my fav also.

View quoted message

Sneaky! I love it! I've also been testing different products each time (pretty much the same look with slight changes) to see how stuff stays and reacts

I try more the products not the looks as I know what look is best on myself.
I would suggest doing a few full glam look on a few date nights to see what your partner likes and doesn't like. This way on You can filter out certain looks your partner might not love. Example: my fiancée is a fan of red lips. He doesn't even know he's helping me figure out my wedding look lol.

View quoted message

Man, I've got to try this stuff!

View quoted message

I'm not a fan of Laura lee but I love Rachh and Tati! I've been binge watching too, I'm just nervous that their looks are stunning, but do they last all day? Have you trialed any looks yet? I've done a few, and I love just doing playing around with my makeup and documenting it, lol!

VIP

November 2019 British Columbia

View quoted message

Smashbox is my fave lipstick! Wearing it today!

I am currently watching YouTube to get a sense of what works well. After watching so many reviews there are so many budget friendly options that can save you money and perform like a high priced product.
A few great brands
Foundations
elf
milani
nyx

mascara
loreal Paris lash paradise

i could go on but you can buy them and try them out prior to your big day since certain products work differently depending on your skin type
the reviewers I watch are
Tati glam guru
laura lee
rachel loves
these ppl have recommended some great make up and I will def plan on doing my own make up the big day

View quoted message

Thanks for the recommendations! I love hearing what products people are using if they're doing their own (I agree about the saving money thing)! I think I need to try the KVD because everyone loves it!

View quoted message

I don't have a specific primer I want to use yet, so maybe I will try out some samples! Do you have any specific stains that you've tried and loved?

View quoted message

Thanks for the NYX recommendation! I have a Skindinavia Bridal Setting spray that I've trialed multiple times and will be using for sure. I've never used a cream contour so maybe I'll start with NYX. Also everyone loves the KVD liner, I'll have to try it!

Newbie

June 2019 Saskatchewan

Primer, both face and eye shadow
Invest in a good-quality eye shadow. Even with primer I find the middling priced brands (like Tarte) tend to get pretty wrecked in warm weather.
Be sure to get a good contour and highlighter that you know how to work with. It makes all the difference in photos! I like using a cream contour (NYX or MAC) so that I can blend it well instead of having to stress about how many layers of powder is enough layers.
Kat Von D tattoo liner is amazing and never moves.
And definitely a setting spray! I second that Urban Decay is the best, but on a budget NYX works well too.

View quoted message

Ooohhhh. good to know!!!


You need face primer (smashbox's is AWESOME). and eyeshadow primer (I love urban decay).
fenty (Rhianna developed brand) foundation is AMAZING!!!!!! that stuff stays on all day long! and makes my skin feel so soft.
and the heavenly of all products is urban decay's all nighter setting spray. it is just AAAHHHH. sorry I love it. I used it for an outdoor Jamaica wedding. my makeup didn't MOVE!

lip stains are awesome for lasting.

for some of those primers if you don't want to buy a full sized one. at Sephora they have small/travel sizes for less in price. or go into Sephora. ask them for samples. they are always great for that.


I am doing my makeup myself! I love how I do mine so I want to save that $300!

One product I need to get/want to test is MAC Pro Longwear Nourishing Waterproof Foundation! A friend at work said she uses it and it STAYS! She wore it while swimming in Jamaica and it held up so that alone is making me dying to try it!

My other staples are NARS blushes (I use orgasm, it gives a beautiful pink, has a light sparkle, and the name is great! haha!)

I also swear by Kat Von D Tattoo eye liner, it is the only eye liner I use and can survive anything! Also it doesn't smear! BUT! if it does come off a bit (which I do notice it does after 8 hours at work, it is the easiest thing to touch up!

Lipstick wise, I will be going with a KVD liquid lip! Or Anastasia Beverly Hills. Both have matte finishes which I LOVE and they LAST!

Also if you are concerned about the "crusty butthole" (still laughing) try putting on a lip primer before you go to bed the night before! It helps me a TON before wearing lipstick all day or even when my lips are dry in winter!

MAC FOUNDATION - BATTLE PROOF




View quoted message

I call it like I see it 😋

View quoted message

I'm sorry I started dying from "crusty butthole" thank you for that hahah!

Expert

October 2018 Saskatchewan

View quoted message

It actually goes on nice and smooth and when it dries it doesn't make your lips go completely dry (if that makes sense). I don't find it's ever gone flaky or crusty but I usually only use 1 thin coat as the colour is nice and rich. Usually I find no matter the brand it will always go flaky and crusty if I try and put on lots of coats.

They also have ones in this collection that are not matte finishes. I haven't tried it with a lip gloss on top before as I prefer the matte look.

View quoted message

Nice! How's the formula? I've found most matte lipsticks just make my lips look like a crusty butthole! Does it layer well with gloss?

Expert

October 2018 Saskatchewan

A great matte smudge proof lipstick that I love is from smashbox. Their always on liquid lipstick. I wear it almost everyday and it does last most of the day. If you let it dry completely before eating or drinking it can withstand almost anything you throw at it. I plan on getting my makeup done professionally but I will have her use this lipstick so if i want to I can reapply it in the evening.

View quoted message

Do you have any specific products? I know the generals of what I need, as well as some specific products picked out (my lashes and glue, lip trio, all my brushes, and setting spray). I thought maybe people could give me the brand and colours of what products they were using.

Primer, long lasting/full coverage foundation, powder, concealer/colour corrector, bronze/contour, blush, eyeshadow, eyeliner, waterproof mascara, kiss proof lipstick, eyebrow pencil or gel, setting spray. You'll want to make sure all you makeup is waterproof, so that way you won't have tear streaks down your face if you cry.
Groups
WeddingWire Article Topics