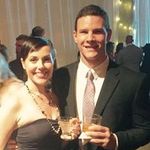 Sarah
Toronto, Ontario · From December 2016
I'm 28 years old and have been with my Fiancé for 10 years. I am a teacher and an artist living in Ontario, Canada.
Happily married 🎉
June 24, 2017


I started a discussion
2309 days ago
1 pt

I started a discussion
2336 days ago
1 pt
My vendors + ontario
Wedding vendors: Venue(s): Palais Royale- Toronto, Ontario Catering: Palais Royale- Pegasus Hospitality Music/DJ: Maximum Dj Photography: Irina Fortey Photography Flowers: Costco (DIY) Limo: Lux Limo Service Officiant: Weddings by Wade

I started a discussion
2382 days ago
1 pt
Trouble with meal option
Hello, I am having a problem with the meal option survey as well as the RSVP page of my website. As my guests are sending their RSVP's, they are having trouble linking their names with their meal choice. For example, if a couple RSVP's, only one of...