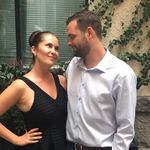 Stephanielarson
North Vancouver, British Columbia · From November 2016
Tyler and I met in elementary school and also attended high school together. I was in french emersion and he was in English so we never had any classes... View more
Tyler and I met in elementary school and also attended high school together. I was in french emersion and he was in English so we never had any classes together but we often hung out as friends. In grade 12 Tyler asked me to be his date for grad and I was sooo excited but even then we still never dated. Throughout the years we would see each other with other friends and we'd be inseparable. This happened for over 9 years after high school until one day Tyler again asked me out. I said YES and we've never left each others side since. On our 4th anniversary Tyler proposed to me as I was walking down the stairs in our house to head out for fancy night out. We never went to dinner. We stayed home and cried, laughed and talked about what marriage meant to each of us. We totally forgot about our dinner reservation and ended up having to order in Boston pizza(lol) because everything else nearby was closed. It's now been almost 2 years since then and we cant wait to finally tie the knot.
Happily married 🎉
July 15, 2017

Toonie bar? yes or no?
Hi everyone, I'm interested in your thoughts on a toonie bar? I've been to weddings that had toonie bars and I didn't mind paying for a few drinks but I just cant decide if it's inapropriate? How did...