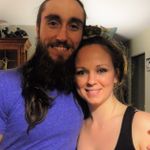 Megan
Tillsonburg, Ontario · From October 2016
I am a 30 year old Canadian born God loving girl, born in Yarmouth- Nova scotia. Right now we live in Ontario, hoping to own our first home after our... View more
I am a 30 year old Canadian born God loving girl, born in Yarmouth- Nova scotia. Right now we live in Ontario, hoping to own our first home after our marriage. I am a vegan & my "husband to be" is also. My dream is to become a Fine Art Artist & hope to open up an art gallery.
Happily married 🎉
June 17, 2018

Fear of public speaking
Anyone have a fear of speaking in public? I know they will all be my family and friends, but I have had a fear (unwilling almost) of public speaking. I have soo much I would like to say including my...

Couples getting married on 8/May/2018 in Ontario
Hi! I am new to Wedding wire so I am navigating through the whole website to get an idea of how this all works... So I ended up here The date to our wedding is such an important date to me; where-as...