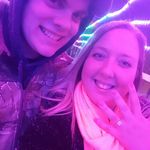 Emily
Chatham-Kent, Ontario · From February 2018
Canadian eh? Planning my fairy tale wedding with the love of my life! 10.26.19
Happily married 🎉
October 26, 2019

Hands Full!
Emily
, On September 20, 2018 at 09:09
Hey everyone! Tips and advice is greatly appreciated My Fiancé and I just found out that we are 2 months pregnant! We have been trying for a while and it finally happened, we couldn't be any more...

Work after wedding?!
Emily
, On February 18, 2018 at 07:25
Hi everyone! Would love the advice and input.. My Fiance is in tradeschool to become an electrician. He has 3 more terms of schooling left. Unfortunately, he is told last minute when he will be...