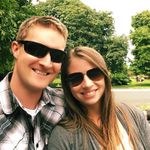 Katherine
Duncan, British Columbia · From December 2016
Hey everyone! I am so excited to be planning our dream wedding! I would say I am a organized, efficient women! And wow this website is amazing to keep... View more
Hey everyone! I am so excited to be planning our dream wedding! I would say I am a organized, efficient women! And wow this website is amazing to keep everything on track!
Happily married 🎉
August 12, 2017
Jr groomsmen gift
Mel
, On April 29, 2017 at 01:54
Our son who will be 9 is standing up with the guys as a groomsmen. My hubby is planning on getting the guys a gift but I feel like any thing he picks for them won't be appropriate for our son. Does...