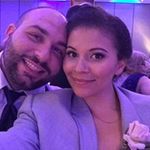 Ashley
Toronto, Ontario · From September 2016
I'm Ashlena, I work in TV & Content. I'm 31 and have been with my boyfriend for almost 9 years.
Happily married 🎉
October 20, 2018

Wearing your glasses or not?
Sonja
, On August 22, 2017 at 19:37
Hi lovely brides, I was wondering if any of you who wear glasses will be wearing them at your wedding, or will you take them off?
Honeymoon in africa
Ashley
, On June 13, 2017 at 11:02
Hi there, My Fiance and I are thinking of Africa for our honeymoon. Has anyone ever gone to Africa for a trip? Would love to hear about it! and costs!