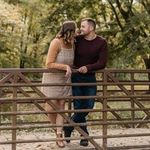 Laura
Ingersoll, Ontario · From January 2022
Newly engaged, proudly back in school, living life in Kitchener with my fiancé, Aaron, and 2 cats Mavis and Ori
🕐 WEDDING COUNTDOWN...
October 7, 2023

Yummi Candles... On Sale?
Laura
, On June 27, 2022 at 21:05
Hello! I was briefly checking marketplace for Yummi floating candles and vases and decided to check out their website too. Currently the candles I like are on sale for "51% off" and was wondering if...