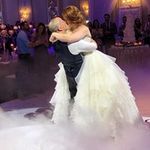 Nicole
Vaughan, Ontario · From April 2017
High school crushes getting married almost 20 years later
Happily married 🎉
October 6, 2018

I started a discussion
1555 days ago
1 pt
Bouquet Toss or No?
Our wedding is in 5 months, and I'm wondering how many people are doing the bouquet toss/garter toss. The majority of our friends and family are already married with kids, so I'm having a hard time justifying it with only a handful of people that...
I started a discussion
1899 days ago
1 pt
My labels + ontario
LABELS! LABELS! LABELS! I will use the labels pretty much anything I can! I love adding little touches to all aspects of my wedding.