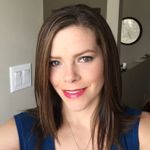 Lauren
Dartmouth, Nova Scotia · From February 2017
I'm a 30 something bride to be. This is not my first wedding but I am so thrilled to be marrying the man of my dreams.
Happily married 🎉
August 5, 2017


I started a discussion
2394 days ago
1 pt
Makeup, hair, and accessories...oh my!
I just can't seem to make up my mind on exactly what I want for my hair and makeup. I keep bouncing between soft romantic and dramatic romantic. I've got my dress and all accessories already. Just need to nail this piece down. With Pinterest...