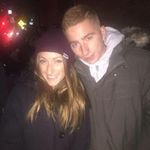 Sondra
'Peterborough', Ontario · From July 2019
We both moved to Australia, flew into Brisbane the same day, met in the Gold Coast and after 8 months of being annoyed by each other and being co-workers,... View more
We both moved to Australia, flew into Brisbane the same day, met in the Gold Coast and after 8 months of being annoyed by each other and being co-workers, we went to the outback, got taken out by a Kangaroo and never left each other's side.
Happily married 🎉
August 6, 2022

Save The Dates
Hello, I'm seriously wondering when I should be sending out my save the dates. 3/4 of the guests invited to our wedding will be flying in from abroad. The Majority will come from England and...

Venues near Peterborough, ON
Hello! I had already found a fairytale venue that my FH and I are in love with, but my great grandmother has announced that she is uncomfortable being so far from home (Peterborough) and she won't be...