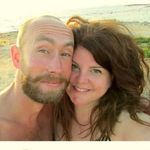 Lisa
Victoria, British Columbia · From March 2016
Living in London, England but very much looking forward to getting married in Canada!
Happily married 🎉
July 22, 2018

Arriving in a canoe??
My fiancee and I aren't really in to the walk down the aisle idea. My Dad passed away and while I have sisters that would love to walk me down, we're trying to think of non traditional ways to 'show...

Venue not listed.
Hey ladies! (and Gents, if you're looking Wondering if there's a way to add a venue if its not listed? Ta Lise