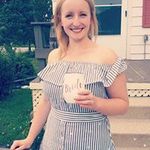 Holly
Parry Sound, Ontario · From December 2017
I'm a tax analyst for a municipal government. I enjoy doing Pilates, horse back riding, travelling and spending time with friends and family!
Happily married 🎉
September 22, 2018
We're married!
Sept 21Sept 21Sept 21Sept 21Sept 21Sept 21 Here's a few pictures from our wedding day. Despite 90km/hr wind gusts and no power, we had our dream ceremony on his parents lake. It was a beautiful day...



6
Vows
I'm looking for some advice or guidance surrounding vows. We want to write our own but I'm worried about a) remembering them b) getting emotional Is it poor etiquette to read them from a piece of...