What kind of shoes!? matching with the dress or adding more color!?
Post content has been hidden
To unblock this content, please click here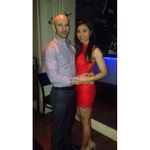 Beginner
May 2017 Ontario
What kind of shoes!? matching with the dress or adding more color!?
Hello lady's, I was wondering how many of you are thinking to wear a different color with your wedding dress...I am excited about the idea to add another color to my dress, matching maybe the bouquet with the shoes. I am not sure what do you dolls think!?
I think mine will be either ivory or silver!! But I am also wearing flats that no one will probably see!!

These are mine.

Frequent user

August 2017 Quebec

Bought these today! I figured I could go bold since my dress will cover them most fr the time and wedges so I don't sink into the grass during photos. And I can wear them again after! Probably going to have flats in hand for the end of the night

Devoted

June 2020 British Columbia

My FH and I are the same height so I am opting for some pretty blue flats to keep it fun and not make me a bunch taller than him.

Super

September 2017 Alberta

I'll post some pictures them as soon as I find and buy them.

Super

September 2017 Alberta

Now I just need to find them! I have 288 days to track them down


Curious

January 2017 Alberta

My dress will be just above the floor, so shoes will be hidden for a little while.

Hey Charlene! That's such a great idea! I'm sure it will look gorgeous for your winter wedding! I can't wait to see pictures! How long will be your dress? Will people be able to see your shoes underneath?

Your shoes sound perfect! Love the wedge idea but you had me at red and sparkly

Frequent user

July 2017 British Columbia

Wedges are a great option for outdoors and comfort. Good call Laura!! I want to see photos

Curious

January 2017 Alberta

I'm getting white converse canvas shoes that I will spray with silver glitter and then dye shoelaces cranberry for a pop of color. My wedding is in January, so need something comfy for indoors or outdoors

Super

September 2017 Alberta

I really want red shoes with some sparkle for mine. I am hoping for wedges since the ceremony is our doors and I don't want to get stuck in the lawn!

Frequent user

July 2017 British Columbia

I think that coloured shoes are a great idea and if not you definitely need some sparkle.

These are all amazing options! Love the 4th pair!!!!!

Frequent user

July 2017 British Columbia

I've attached photos of some other options just to show you what you could buy that would be comfortable and go wth the dress. I even threw in a pair of dressy sneakers. I'm wearing heels even though they're not super comfortable because I want my FH to see me look smokin hot as I walk down tht aisle. I'll change into a pair of converse(or similar) when we start dancing.

Comfortable wedding shoe that arn't sneakers

Thanks you.. I sure hope he does !

Devoted

September 2018 Quebec

Haven't found any yet and tally hope I find a good pair

. Looking for something maybe royal blue. I want heels but flats as well for afterwards.

That's great Tiffany! Did you find some shoes you liked so far? What will they look like? Will they be high heels or flats?

This is so great Louise! I'm happy you're following this tradition! Welcome to the community my dear! What did you choose for your something old?

Spring colours look so pretty! Maybe you could go with silver shoes? Something sparkly? That would go with well with spring colours!

That's great Katherine! I like that you are going for you're own style! Go for it! You'll be much more comfortable in those shoes! Did you buy them just for the wedding?

Great! I never have that problem lol. I usually always get the shoes the coordinate my clothes with them ! Lol I think it's a great shoe! I don't want my heal too high either. This height is perfect !

Master

August 2017 Ontario

Thank you! I wasn't even wanting to get my shoes when I found these and I just fell in love because the heel isn't too big so I will be able to walk and they were the perfect length with my dress - I just have to get it hemmed a tiny little bit in the front.

Devoted

September 2018 Quebec

I'm thinking of blue shoes as it'll be my something blue and it's our main color

I agree with Stephanie! NO SNEAKERS!!! This is your special day. Sneaker you have access to all the time! You could use pretty flip flops or flat, but for the love of brides NO SNEAKERS!

Lol

Frequent user

July 2017 British Columbia

Runners? Whatttttttt?? I'd have to say I agree with your hairdresser but whatever makes you happy.

Master

August 2017 Manitoba

I'm thinking of getting gold flats shoes to wear and have a pair of high heels in the same colour. Gold is the he main theme colour of our wedding. My dress may contain gold in it to match everything.

Hmmmm I haven't decided yet either ! But I think I would want them to match my dress .

Or maybe I'll be buy 2 pairs of shoes!!!

Devoted

September 2017 Quebec

Something old,
something new,
something borrowed,
something blue,
and a silver sixpence in her shoe.

The old item provided protection for the baby to come. The item borrowed from another happy bride provided good luck. The colour blue was a sign of fidelity. The sixpence — a silver British coin — was a symbol of prosperity or acted as a ward against evil done by frustrated suitors.

I am English, so for me this is a way I can bring the tradition into my wedding

Beginner

May 2017 Ontario

I am thinking about blue, but I am. It sure if I have to match this color with my bouquet and also with the decoration! I don't want haha...I want my decoration white, with maybe silver...and I want my bridesmaid with different dress and different colours (I don't have any preference as long as they wear a spring color will be nice

Beginner

May 2017 Ontario

Awwwwe that is amazing idea, I am pretty sure that he will love it.
Groups
WeddingWire Article Topics