Post content has been hidden
To unblock this content, please click here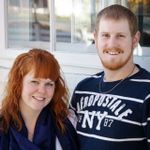 Curious
May 2018 New Brunswick
Save the dates?
Hey brides to be, Just wondering if save the dates are important? All of our guests are local (with the exception of one aunt and uncle). We are trying to cut cost as we will be paying for everything. Also,the wedding isn't until 2018. If I don't do save the dates how far ahead should I send the invites?
Latest activity by Emilie, on January 30, 2017 at 12:35
Hey Kelsey! That's great! I don't know if I already passed these on to you but there are these discussions you could take a look at for your wording:

5 original invitation wording ideas

Do you think you'll go for a classic wording or something more personal?

Hi Emilie, I am thinking simple classic and white. I'm into more modern and clean so hoping to find something in that style

Hey Kelsey! That sounds like a great timeline! Did you already choose a design for your invitations?

We will not be doing save the dates as I do not see the point as the majority of guests will be local. We will also be sending invites roughly 4 months before the wedding as our Venue needs a head count two months before the wedding. Hope that helps

Beginner

August 2017 Ontario

Nice to meet you too Emilie! I had a convenient trip to California this past August (we got engaged March 2016) so I told the family members I was able to visit in person! For the ones I didn't get to see, I called to let them know and they appreciated it just as much.

I haven't settled on an invite yet. I know I want them to be gold and black, but there are so many to choose from!

Almost half of my guests are coming from out of town so I sent save the dates. We've also been together for a really long time and I got over excited when we finally got engaged. I sent save the dates to everyone, including local people. I did them on vistaprint so they weren't expensive ($40) but the postage cost me $100. I instantly regretted it because I can't cut my list down now. Everyone who got a save the date will be expecting an invitation. I would give a heads up to the out of towners you know for sure you want to invite but otherwise you don't have to send them.

Hi Brittany! That's a great advice! I'm so happy to meet you! How did you give the heads up to your guests? Did you call them or write them an e-mail? I can't wait to see what your invites will look like! Have you already chosen the design?

Hi Bethany! Welcome to the community! I'm so glad to see that you already got such useful feedback in here! Normally, you can send your official invitations 6-8 weeks before your wedding. But it's wise to give your guest previous notice. You could also send your save the dates in digital version to save on cost e-mails adresses or your wedding website:

How To Send Your Online Wedding Invitations using WeddingWire

How To Send Invitations to My Website

How do you like the idea? Let us know what you'll do! Can't wait to hear your ideas!

Frequent user

May 2020 Alberta

We have decided against save the dates. If there are guests who require a longer time to arrange travelling or booking time off work, you can let them know by calling them or sending an email. There are some sites out there that would have free templates for save the date announcements that you can just email your guests.

We are going the save the dates by email.

Beginner

August 2017 Ontario

I agree, they're not necessary - especially if most people are local. I figured the money could be better spent elsewhere. I think I would send them out if we were having a destination wedding, just to let them know far enough in advance to plan. I do have 20 or so family members coming from a distance (coming from LA to Toronto) but I still didn't send them out. I just gave those family members a heads up, and they did appreciate it being personal. I'll be sending out the invites 3 months in advance.

VIP

November 2016 British Columbia

Hi Bethany! No, Save The Dates are not necessary so you don't have to do it. They are a great way of letting your guests know when your wedding will be, which can be helpful if you're having a destination wedding, have a lot of out of town guests that would need to book travel in advance or if you have other friends who are getting married around the same time! Ours was a destination wedding so we sent out Save The Dates a year in advance to allow people time to save up and get passports. It was also a great way to share our engagement pictures. If most of your guests already know when your wedding is, you don't really need them.

If you do want to send Save The Dates, try sites like Shutterfly, Minted, Vistaprint or Wedding Paper Divas and watch for their sales. You can get them for like 50% off!

They generally say that invitations go out 6-8 weeks before the wedding. Make sure that the due date is far enough in advance that it gives you time to track down the people who don't respond! It took us about 2 weeks after the RSVP deadline to get a hold of everyone.

Devoted

September 2017 Quebec

I personally don't think save the dates are worth it especially if you are trying to keep the costs down. The people close to you will know your wedding date. Tell out of towners in advance. I would say you need to send invites at least 3-4 months in advance.
No matter how much time you give people, I am sure some won't answer until last minute.
Groups
WeddingWire Article Topics