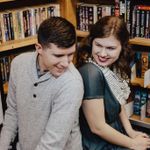 Chloe
Milton, Ontario · From July 2017
Hello! I'm Chloe :) I am a university student studying English Literature and Creative Writing. I like books, hot chocolate, and warm socks!
Happily married 🎉
May 20, 2018
Being sick on wedding day
So I need some quick advice! My wedding is tomorrow, and today I woke up with a very sore throat. It's only gotten worse throughout the day, so I'm pretty sure I will still be sick tomorrow! I don't...