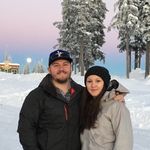 Chloe
Chase, British Columbia · From February 2017
Happily married 🎉
June 9, 2018

Kamloops hair and makeup stylists
I'm looking for a hair and makeup combo from Kamloops that's mobile but I've know idea who I should hire? Any suggestions? I'm hoping they can come to my venue in chase 45ishinites away. I've got 3...

Reception and ceremony on 2 separate days?
Will things get expensive if I have the ceremony on one day and the reception a few days later?I want the ceremony to be just our family, (we have big families) on the lake we go to every summer. Part...