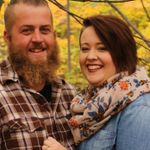 Amanda
Norwood, Ontario · From August 2018
City girl meets country boy. And so begins their love story.
Happily married 🎉
October 10, 2021

Potluck vs. Buffet caterer
Hey all! Thought I'd pop in here and get other opinions. I have a heated issue in my planning process about the "FOOD" section. I have been looking at caterers (nothing fancy) to do a buffet style...

Cricut machine
Hey, other diy brides! Just looking for some opinions on the Cricut machine before making the investment. It would be possibly used for other occasions other than the wedding, as I tend to do diy...