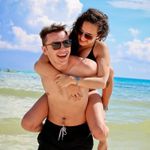 Hgc
Duncan, British Columbia · From March 2019
Married 17/10/2020 :)
Happily married 🎉
October 18, 2020

Wedding Hashtag Ideas?
Hgc
, On April 16, 2019 at 01:52
Hi all, would appreciate any help in coming up with hashtags. We can't think of anything punny/funny/cute using our last names. Mine is Galego (GAH-LEGO) and my fiancé's is Coutu but pronounced...

Advice on Getting Ready Robe
Any advice appreciated! I am trying to choose a robe to get ready in on my wedding day. There are a few points to consider which is why I am asking for help: 1) Me and my friends are going to do our...




4