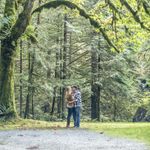 Marci
Pritchard, British Columbia · From October 2016
Looking forward to the big day!
Happily married 🎉
September 23, 2017

You spend the weekend at...
María
, On December 27, 2016 at 07:49
Last question to find out which wedding bouquet is perfect for you Yay! The weekend is finally here and you are going to.... A. Wine tasting B. Movie night at home C. Horse riding D. Romantic Picnic...




4