Angela
'', Ontario · From September 2021
🕐 WEDDING COUNTDOWN...
June 24, 2023

Raffle tickets
Angela
, On April 30, 2022 at 21:49
How many raffle tickets did you sell in lieu of a buck and doe ???
When Did You Get Engaged?!
Amanda
, On December 31, 2021 at 12:18
Did you know that Christmas Day is the most popular day to get engaged? Or that December is the busiest month of the year for proposals?? 💍 When did you get engaged??!!! Did you get engaged in...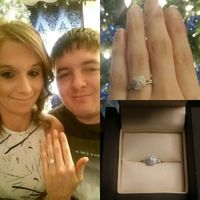 2

Photographers
Angela
, On January 14, 2022 at 21:24
Looking for photographer advice!!!!! Has anyone used Pink Champagne Photography or Frances Morency Photography????