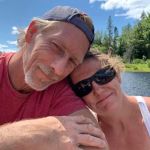 Michelle
Perth, Ontario · From January 2020
Hi All! Im so excited to be on WeddingWire and part of this community. Thank Goodness our wedding is planned for June 2021 with all this going on. My... View more
Hi All! Im so excited to be on WeddingWire and part of this community. Thank Goodness our wedding is planned for June 2021 with all this going on. My deepest sympathies to all those who have had to postpone and reschedule. Its my second marriage and my Fiancè third. Despite that, its been a long time since either of us went through all this. I am open to any suggestions, advice or ideas. Because its not the first time round for either of us, we really want this to be unique, to really stand apart from any past experiences. We are throwing tradition to the wind so to speak. Our theme is Industrial Chic, with some fitness-OCR influences, and if Im honest, a few subtle injections of Harry Potter. LOL! I know that sounds like a crazy melting pot of ideas that dont seem to go together. But Im determined to make it work haha! Good Luck everyone!
Happily married 🎉
July 2, 2022

Couples getting married on June 19, 2021 in Ontario
Jamie
, On February 11, 2020 at 10:26
Hi everyone!! Excited to get started with the planning. This is a second marriage for both of us but it's been a long time since I planned my last wedding. Looking for lots of info, ideas and a place...