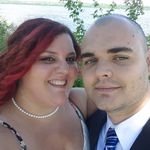 Jessica
Toronto, Ontario · From June 2017
I am a veterinary technician ( have been for 9 years), and have worked in the industry for 16 years total. I am so excited for my upcoming wedding. He is... View more
I am a veterinary technician ( have been for 9 years), and have worked in the industry for 16 years total. I am so excited for my upcoming wedding. He is perfect for me and I cant wait for our next chapter
Happily married 🎉
June 2, 2018


I participated in Ashley's discussion
2011 days ago
3 pt

I earned a badge!
2019 days ago
Vogue
A picture IS worth a thousand words! You've earned this badge for sharing your first photo with the Community.

I earned a badge!
2254 days ago
Extrovert
You've made a huge step in the Community, you've decided to contact someone from the forum for the first time. You've won this medal for being so extroverted.

I earned a badge!
2291 days ago
Hot Streak
Hot streak! You can't get enough of the WeddingWire community, can you? Thanks for being a loyal community member and visiting us 5 days in a row.