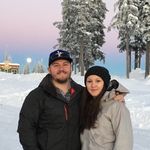 Chloe
Chase, British Columbia · From February 2017
Happily married 🎉
June 9, 2018


I participated in Chloe's discussion
1992 days ago
3 pt

I started a discussion
1992 days ago
1 pt
Reception and ceremony on 2 separate days?
Will things get expensive if I have the ceremony on one day and the reception a few days later?I want the ceremony to be just our family, (we have big families) on the lake we go to every summer. Part of my family is flying out from England too....

I participated in María's discussion
1992 days ago
3 pt

Your wedding color palette is....
I'm thinking if having a soft lavender or pastel purple as my main
...
Go to the discussion