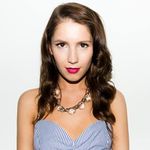 Anna
Toronto, Ontario · From May 2016
Pop recording artist and Associate casting director, mommy and wife to be :)
Happily married 🎉
September 14, 2018


I started a discussion
2028 days ago
1 pt

I earned a badge!
2111 days ago
Extrovert
You've made a huge step in the Community, you've decided to contact someone from the forum for the first time. You've won this medal for being so extroverted.

I participated in Anna's discussion
2114 days ago
3 pt
Finally had our big pow-wow with our wedding planner and looks like we are ready to start meeting with our vendors!!! Ahhhhh

I started a discussion
2120 days ago
1 pt

I earned a badge!
2187 days ago
Hot Streak
Hot streak! You can't get enough of the WeddingWire community, can you? Thanks for being a loyal community member and visiting us 5 days in a row.

I started a discussion
2190 days ago
1 pt
Has anyone had their wedding dress custom designed?
Hey Ladies, I have been inspired by some super expensive designer gowns. Let's just say, in another life, I was RICH because my taste is too insane. Have any of you had your dress designed or made from Scratch? If so who did you use? I'm looking for...