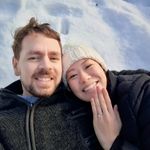 Shelly
Summerland, British Columbia · From November 2020
Happily married 🎉
July 31, 2022

Advice for wedding dress shopping
Hi everyone, I've started looking for wedding dresses (tried on ~12 so far) and I'm feeling pretty overwhelmed. There are just so many dresses to choose from and everything looks fine. I've only been...

Videographer packages
Hi everyone! I'm currently looking at videographers and I'm wondering if anyone can share the types of packages they went for? My fiancé and I have found a videographer we really like but their...