Post content has been hidden
To unblock this content, please click here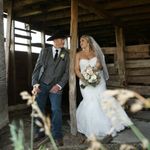 Super
August 2018 Alberta
Wedding Shower
Just wondering how many brides are out there who aren't having a shower? I told my MOH I don't think I want one (she has offered to throw me one) We're going to do the bachelorette party but a friend told me today I have to have a shower it's one of the best parts of the whole experience. I just feel so bad about all the fuss over me. We had an engagement party plus there's the wedding itself then to add the shower and bachelorette party seems like so much to me. What's everyone's thoughts on having a wedding shower or not?
Latest activity by Maya, on March 8, 2018 at 21:28
Expert

January 2019 Alberta

I think I will have a shower but not an engagement party. It does seem like there is a lot of fuss and party's to plan.

I want to have a stag and doe party and then my FH aunt wants to throw us a shower and then if I have a bachelorette party then that's already 3 parties and each time it will take a lot of planning and money.

Newbie

April 2019 Ontario

I'm not having a shower. I don't like the fuss either plus our wedding is small. We want to focus on just planning the wedding.

I am not doing a shower. I come from EU and it is simply not part of our traditions.

i am also not doing bachelorette, as I do not see the point. Maybe I will just gather a few friends and go to a wine bar or a bistro, have a dinner and a couple of glasses of wine and come home to my partner

Master

September 2017 Ontario

I didn't have one. I agree with you about all the fuss and expense that is unnecessary. No engagement party either. It would have been a lot of events for us to fit into a short time frame. We got engaged December 25, 2016 and were married September 30, 2017. Trying to fit in all the planning plus all those events would have been crazy!


Super

August 2018 Alberta

View quoted message

Love that idea!

Wedding Showers don't NEED to be done. I didn't want one either as I really just don't need all those gifts.

I've asked people to not bring gifts, but if they REALLY want to do something, then to give me their favourite book since I love reading.

I'm not having either by the sounds of it. My FMIL had talked about planning a shower for me but nothing has come of it and we have 3 months until they day and they live nearly 8 hours from us. I don't think it's a big deal if you have one or not.

I did not do a bridal shower. My mom and MOH wanted to plan one for me, but I live out of province, and didn't want to fly in for a weekend just for it. I told them to skip it. We already had an engagement party with my side of the family and my MOH hosted my bachelorette. I think that was plenty and didn't find it necessary (besides I wouldn't be able to bring the gifts back on the plane with me).

Master

October 2019 Ontario

View quoted message

My co-moh's already know that they only want to do a bachelorette. My mom may throw me a bridal shower, but I live far away from most family/friends that would go it's logistcally not worth is to me

Super

August 2018 Alberta

View quoted message

Lol yes so true!

Master

October 2019 Ontario

I think showers are losing their usefulness, people are already buying gifts for the wedding. It feels redundant to me to have a bridal shower, but baby showes I totally get lol

Super

August 2018 Alberta

Thanks so much ladies! I totally understand the difference between the bachelorette and the shower and I know you're not typically supposed to throw yourself one haha my MOH did offer to I just feel like it's all so much especially since the bachelorette costs money and ppl bring gifts to the wedding maybe doing a shower with out gifts would make me feel better about it! I must have issues with all the attention! Lol thanks again 😊

We are doing a destination Bachelorette so only my wedding party is coming to that so we are having a bridal shower for my family and friends to attend and celebrate with me
In my experience the bachelorette is a night out or something with friends , it's a party, and the bridal shower is where people bring gifts. I've never been invited to a bachelorette and been expected to bring a gift

Devoted

April 2018 Ontario

My family wanted to throw me one so I'm having a bridal shower. They are excited about it so I don't want to take that away from them. However, I made sure only to invite people who are also invited to the wedding as it seems rude to invite to a shower but not the main event.

Devoted

November 2018 Ontario

In my experience, a shower is just a nice thing that your mom, friends, mother-in-law, etc. Host and plan (and pay for) for you. You shouldn't feel that you have to throw yourself one.

We were maybe going to have a Housewarming Party instead of a bridal shower, since most of what you get at a shower is usually house stuff any way, and I'm sure as heck not going to be the only one using the stuff! This way too my Fiance is there to taking some of the pressure off me.

If someone wants to throw you one though you should let them. I have the same feelings about people fussing over me, but ultimately it's just a super nice thing, put on by people who love you

Frequent user

June 2018 Ontario

I'm not having one! It was a combination of not wanting the attention, not wanting to spend money on so many things related to my wedding and also being in my 40s and living with my fiancé for 5 years - we have all the stuff we need. Don't feel pressured, this is supposed to be about you and how you want to make it.

Frequent user

August 2018 British Columbia

I am just doing a bachelorette. The shower is nice just in case the bachelorette is somewhere like Vegas and not everyone can come. Other than that I don't really see the point.

VIP

November 2019 British Columbia

You really don't have to have a shower. I'm probably going to skip the shower myself. There's so many different parties now that you really don't need to have all them, there's a lot of flexibility to choose.

I think they are optional nowadays. I don't like being the centre of attention either so when my friend offered to throw one I asked for it to be a couples shower so my fiancé would be there to take the attention of me (he loves it!)

I think you can skip it! If you're MOH is set on throwing you one, you can ask that it be casual and people don't bring gifts, or bring donations for a certain charity. My friend did that and it was a huge success!

Curious

August 2018 Manitoba

You shouldn't be the one to plan the shower, for all the bridal showers have been to it's was a surprise for the bride from her bridesmaids. I'm planning one for my best frd next month.

Newbie

October 2018 British Columbia

Im not having one either. I feel its unnecessary as everyone I would invite to the bachelorette, I would invite to the bridal shower.

Everyone feels obligated to buy you something for all the events and its just too much. Also Im not one for a lot of awkward games, so that might be part of it too.
Groups
WeddingWire Article Topics