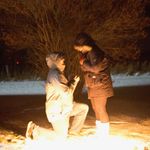 Wedding day makeup and hair
I've done some research and have been coming up with different answers so not sure what is right... who pays for the bridesmaids hair and makeup? I know I have to pay the deposit because I'm not collecting a couple dollars from each for that but who pays for the majority of their look?
Latest activity by Meagan, on August 23, 2018 at 21:56
Frequent user

October 2021 Nova Scotia

I realized early on that paying for a bunch of people to have hair and makeup done was not going to be in the budget, so we're only having one person stand on either side. I'll be paying for hair and makeup for my MOH, my mum, and his, as I want it to be all done professionally.They will be buying their own dresses, but I will be guiding more than dictating on what they wear, the only stipulation is floor length as it's a fall wedding!


Curious

April 2019 Alberta

I'm letting my bridal party choose their own dresses, which also means paying for themselves. I'll hopefully be able to pay for the hair and makeup. Haven't gotten a quote on that yet though, so I'm a lil nervous!

Devoted

July 2018 Alberta

I couldn't afford to pay for them so I told my ladies straight out that the decision was up to them if they wanted it done, we all did our own makeup and afew of my ladies Had their hair professionally done.

Curious

September 2018 British Columbia

View quoted message

I did the same thing. They all decided to get their hair done professionally, and all but one opted to get their makeup done as well. My mother is going to get her makeup done too, but will do her hair herself.

Expert

December 2018 Ontario

I'm old school. Personally I think you should pay for the hair and makeup. But I also think if you're picking the dress you need to pay for that too. I know it's not a popular opinion but I don't think it's right to ask people to be in your wedding party and then ask them to spend hundreds of dollars.

Master

September 2017 Ontario

It's totally up to you! I paid for hair and makeup as both my bridesmaids had to travel great distances just to be at my wedding. If it is not really in your budget than let them know the cost.


Expert

August 2018 Ontario

Once I got a price for makeup, and a price for hair, let all the bridesmaids know. They're paying for it, but they also had the option of doing it themselves!

Expert

October 2018 Saskatchewan

If you are having them use the professional service then you should be paying for it. If you don't have room in the budget to pay for them all to have professional hair and makeup done then you shouldn't be expecting them to cover this as a required expense.

If they have the option to do it themselves and not use the service then you don't need to pay for it. But they should be told ahead of time if they want to book it with the same people what the cost is and that they don't have to.

I offered the service to my girls (along with moms and my grandma) and I am paying for the hair and makeup myself as a gift for them. I offered it to them so I wouldn't expect them to pay for it.

Expert

September 2018 Ontario

It depends, some brides will pay for their bridesmaids hair and makeup as their gift. If you are already spending money on gifts for them you do not need to pay for their hair and makeup as well.

When shopping around for a hair & makeup person I asked my bridesmaids what they were comfortable paying before booking - since they are paying for their own.

Super

July 2018 British Columbia

I gave my girls the option of doing their own hair / makeup or getting it proffessionally done so i did not pay for it for them. I let them pick whatever style they wanted. They did not have any issue paying for it themselves as i did already pay for their dresses for them.


I paid the deposit but they paid the rest. I didn't care how they wore their hair, so they still had a choice so I thought if they got to choose, they could pay.

Super

August 2018 Alberta

I think it's totally up to you! I've been a bridesmaid a few times and I was fine with paying for my own hair and makeup. Most times though the bride paid for one or the other or didn't require professional makeup.
I'm paying for the makeup as part of their gift and let them know how much hair should cost - approximately so they can budget for it ahead of time.

Super

August 2018 Manitoba

I think it depends if you can afford to pay for your weddings party's hair and make up its a nice gift to give them. I will not be paying for hair and makeup, luckily my sisters a makeup artist and most of my bridesmaids want to do their own make up/hair, with the styles I requested.

Devoted

July 2019 Ontario

I'm budgeting to pay for my girls' hair and makeup but it was not a requirement. I did ask them to contribute to a tip as I feel they should judge how happy they are with their looks.

Super

June 2019 British Columbia

View quoted message

I agree with this! I'm a hairstylist and this is how we see it down most of the time!

Frequent user

October 2019 Alberta

I was budgeting to pay for everyone's hair, makeup and dresses. But we have an amazingly talented friend doing our hair for the cost of getting her to our wedding, everyone is a super beauty wizard and don't want the makeup people (except for me, which my sister in law is going to do for me).
I'm also pretty fortunate that I would have been able to budget for this if we did need it, but I think lots of bridesmaids understand that they're going to be on the hook for some of the wedding expenses (or all of them).

You could always suggest that hair and makeup is optional, but if they want it, they'll need to pay for it?

Devoted

October 2019 Quebec

Because my wedding will be across the country and 2 of my bridesmaids have to fly from BC to QC on their own expenses, I am planning to pay for their makeup and hair. They will be buying their own dress as I don't dictate them what color or style they should be wearing. I will also provide them a room to stay at my new home.

View quoted message

That would be kind of frustrating. especially when you do makeup. ugghhh.
I have never had a bride require I get my makeup done. And I have been a bridesmaid 12 times. But I also have the mindset of. If I am in your wedding, I expect part of my expenses are hair and make up. I've also been really fortunate that all the brides I've stood up for, have always tried to find very affordable hair/makeup.


Frequent user

September 2018 Saskatchewan

I'm paying for my girls hair and makeup but that's part of their thank you gifts. Im in a wedding next year and the bride has asked if I wanted my hair and makeup done. For that one I would be paying for it myself, which is fine because I had the choice and seeing how I have no makeup or hair skills I need the help haha.


I've heard the rule is that if you are requiring they get hair and makeup done then you should, but if you're making it optional then they pay for it. However, my brother's wife required it but made us pay for it. I might have an unpopular opinion but if you are REQUIRING it for people (especially those who do makeup everyday and do their own glam looks), you really should pay for it (but I also might just still be butthurt, lol )

It is variable - some people pay for their bridesmaids, some don't. Both is acceptable. I am not paying for my bridesmaids, but I -am- taking care of the tip. I also made sure to check with each girl on the price for hair and makeup before booking for them.


Devoted

August 2018 Ontario

The bridesmaids usually pay for their own attire. Makeup, hair, dresses and often bachelorette travel expenses .

Expert

September 2018 Ontario

It depends on if you want to pay for it as a gift to your bridesmaids.. some do opt for that. For me the girls are all paying for their own hair and make up and I am buying them all their jewelry. Either way I think is fine. I am just collecting via e transfer and I just paid the deposit so the girls have more time to pay for their parts.

British Columbia

If you are expecting them to get it done, you pay for it. If they are choosing to book with your hair or MUA, then they pay for it, unless you want to gift it to them.

Yours should just be worked into the budget of the wedding, unless someone is gifting it to you (my older sister asked if that can be her gift to me).

Frequent user

January 2021 Alberta

I have never actually had my make up done professionally for any of the three weddings I was a bridesmaid in. I did pay for my own hair each time though, and in the first two the brides had a friend of theirs do our make up and in the last one I did my own.


I think either way is fine - the biggest thing is making sure that everyone is on the same page about any expectations and obligations. I don't think it is OK to demand your bridal party gets their makeup and hair done professionally unless you are willing to pay for it - they are already buying dresses, have probably spent money on bachelorette parties and/or bridal showers, and gifts, etc. It should be their choice whether they are willing to pay for professional makeup or not. If you absolutely must have professioanl makeup for your party, I think it's best if you offer to pay for it.


I let my brides know the price of getting makeup done with the girl that was doing mine, and then I let them choose what they wanted to do, either get it done, or I was fine if they did their own.


Frequent user

June 2019 British Columbia

When I was a bridesmaid, I've been to weddings where I've had to pay for my own hair and make up and other times where it was paid by the bride. It's a nice gesture from the bride but I understood that it was not guaranteed, especially when the brides are on a tight budget.

Super

August 2018 Alberta

My girls are all paying for their own hair and makeup, and they bought their own dresses. I know a lot of brides use paying for hair/makeup as their gift to their girls though. So that's always an option.

Top

October 2019 Manitoba

I will be paying for my hair and makeup. As for the bridesmaids they can do their makeup themselves or chip in for them to get theirs done with me I'm not made of money so I unfortunately won't be paying for their makeup - I will cherish the pictures of the wedding party but in all reality I will hang the pictures of just me and my FH up in our house.

Frequent user

October 2021 Nova Scotia

When I was my MOH's MOH, she paid for everyone's hair and makeup, we bought our own dresses. In my wedding I'll be paying for the hair and makeup for the bridesmaids as well as my mum and his more than likely.
Groups
WeddingWire Article Topics