Post content has been hidden
To unblock this content, please click here
Beginner
July 2022 Alberta
Hotels
Is it my job to call ahead to close hotels and reserve rooms for out of town guests. Or do you leave that up to them
Latest activity by Vinod, on January 25, 2022 at 13:58
Featured

August 2017 Ontario

The hotel or venue your having your wedding at will let you know if you will pay for the rooms not booked. Some hotels do have you arrange room blocks for guests to make their arrangements and some may ask you to book for them. There are discounted prices for wedding packages depending on the area you choose to let your guests know on the invitations under Accommodations. Call around to inquire and see what they will do based on room blocks to ensure your not on the hook for unbooked rooms to pay extra out of you pocket.

View quoted message

We are getting married at a hotel/resort so a room block it part of their process with our contract. We don't put a deposit for the rooms, just have a code that others can use to book.

However since you aren't getting married in or near a hotel I wouldn't be as worried about it. Unless you want to be really nice a arrange a shuttle from one specific hotel to your wedding and back so people don't have to worry about drinking and driving. But the shuttle will be money.
Is there lots of options in the city you are close to? Hopefully everyone that needs a hotel room can find a place on their own?

Featured

August 2022 British Columbia

Getting block of rooms is super easy to do. You can just call the hotel of your choosing and ask them if you can get a block of rooms set up (at a discount rate if they do that) for your upcoming wedding for out of town guests. Usually you have a certain time frame to book until those rooms go back on the market.

My fiance and I did this for our original wedding date back in 2020. Since our entire guest list is traveling to our wedding city including my fiance and I, hotels fil up super quick in Kelowna BC. We chose 4 hotels that we're in 4 different price ranges so everyone had an option. Of course they didn't have to chose one of these that we picked, we just gave them the option with a lower rate.

Beginner

July 2022 Alberta

View quoted message

We are doing it at the farm. So a few guests are camping it at the farm bringing trailers. But not everyone will be able to camp or have a camper to bring. We are about 15 mins outside the city.

Featured

October 2022 Alberta

I don't have any insight on HOW this works, but I would also check your guest list to see if its even needed.

For us, we are having our wedding locally where most of our friends and family live - so most will be able to uber/taxi home but I have noted the close hotels for the few out of town guests we do have.

Beginner

July 2022 Alberta

View quoted message

Thank you for the advice I will do so

Super

December 2020 Ontario

I would absolutely do a hotel block (we did). Just make sure there's no minimum. It reserves a price for them (even if not a discount) and ensures they have a room if they don't book early enough. They don't have to book it but it's a nice thing to do for guests and doesn't take much effort or time on your part.

Featured

September 2021 Ontario

I would only get a hotel block if your venue is the hotel itself or in super close proximity (walkable or 5 minute car ride). Most people usually end up getting their own place to stay, and some prefer an airBNB over hotel.

View quoted message

There should be no deposit. They want the business so some places will give a special rate if you were to book 10 rooms or so. So you can just tell your guests this is the rate we got if so many people stay here. It would be totally up to them to actually book the place.

Beginner

July 2022 Alberta

View quoted message

So when you call and book or hold a certain amount of rooms. Is there deposit to do so. Or just get the rates and let everyone know right away that they can call and book if they want that certain price

You can calls local hotels and ask if they have a cheaper price if you were to get a block of rooms and if they do you can let your guests know but it would be up to them to book the room. My wedding is at the Americana so they offered a room rate for any out of town people. I put a little card in our invites that let them know the rates for that day. However, they can pick any place to stay that they like.
Related articles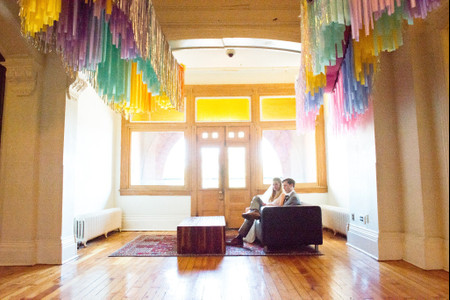 Groups
WeddingWire Article Topics