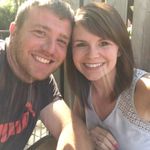 Frequent user
June 2018 Ontario
Latest activity by Kris, on February 22, 2018 at 23:17
Frequent user

June 2018 British Columbia

View quoted message

I would go with Mrs. as you can wear it for longer!

Featured

August 2017 Ontario

Mrs. last name works as it will be your shirt for life.


Master

September 2017 Ontario

I think Mrs. XXXXX may be best as you could maybe wear it more like on anniversaries and stuff.


WeddingWire Admin

May 2015 Maryland

Personally I think I'd have Mrs. XXXX on it, I think I'd get a little more wear out of that, like on the honeymoon.

If you want to get technical, you won't actually be "mrs" yet when you are wearing it. That being said, I do still like that better because it is more personal than "bride"

I am putting Bride on mine

Frequent user

June 2018 Ontario

View quoted message

I am bringing the shirts to a place that prints on shirts, and other things ! It's called ink plus

Devoted

April 2019 Ontario

Are you ordering them online? Or customizing it yourself. If your doing it yourself, how are you going about that? I really like that idea

British Columbia

If you're wearing it morning of, I vote "Mrs. [X]". Because (unforunately, haha) technically you're not a bride after that day... but you can wear it after the wedding with your new last name.

Frequent user

June 2018 Ontario

I will be wearing it the morning of while I get ready, my best friend will have her initials on the pocket

I plan to give my girls matching flannels PJs at my bachelorette party for us to wear then as well as getting ready. I plan to put "Bride" in mine and maid of honour/bridesmaids on theirs.

Frequent user

September 2018 New Brunswick

I like the "Mrs. (New last name)"

Frequent user

June 2018 British Columbia

Where are you wearing the shirt?
Groups
WeddingWire Article Topics