https://community.weddingwire.ca/forums/back-and-married-bam--t1302 Cont...
The morning of the wedding, we went to the restaurant and banged on the doors until someone let me in. ("I'm the bride and I need to set up!") There were some issues with the room setup and unfortunately there was no one around to fix it! The contact I'd been working with in the year leading up to the wedding was off on weekends and the coordinator who'd be helping with our wedding wasn't coming in until the afternoon which would have been during the ceremony so I asked around and tracked down another manager or supervisor (?) who said he would take care of the changes for us. One thing we hadn't anticipated was how our table assignments/guestbook was going to work. My idea for our guestbook was that we would print pictures of us with all of our guests and they would get a copy that would have their table number on the back and then there would be another copy for them to sign and put in our guestbook. Originally we were planning on just having the pictures laid out directly on the table but my husband found these cute inexpensive stands for them that we liked. That way the pictures would be displayed and they could bring it to their table and take it home with them. Of course when we get to the actual set up, it's not that simple. The table had a tablecloth on it which didn't make the stands very stable and the picture stands were so light that when someone walked by the table, the breeze would knock them all over like dominoes. We couldn't take the tablecloth off because the table underneath wasn't in great shape. We ended up having to go buy tack to secure the picture holders to the tablecloth! (That way the pictures wouldn't fall over and the guests would still be able to remove the pictures from the table.) Whew! Crisis averted!
Photo Album Guestbook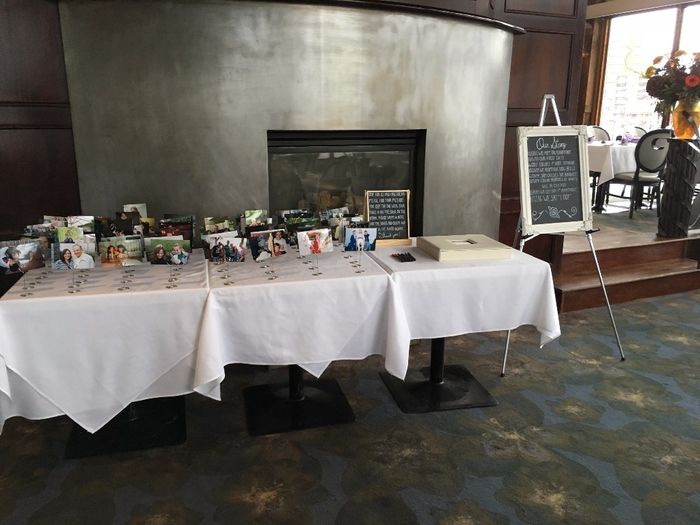 After setup, we went back to the hotel to start getting ready! I was worried that the day was going to drag by and that it would be really hard to wait all day to see my husband but it all worked out! We had two hair stylists to do everyone and then one makeup artist to do our moms' makeup and mine. One of the hair stylists they added last minute so she wasn't at the hair trial. She wasn't quite able to get the hairstyles the way I wanted but the other stylist that we worked with at the trial was phenomenal and she fixed them. My sister works at Sephora and is a pro with makeup so she did all the bridesmaid and did a fabulous job! We were ahead of schedule but then it came time to put on my dress and we were starting to run behind. Our videographer was like "do you have a card to read? I'd like to film it" and I was like sorry we already did that with the photographer and you missed it and I have to get in my dress. (He wasn't the sharpest.) I was worried and my mom was like "don't worry, the bride can be late, they'll wait" but I was like "no we have to hurry! We only have an hour after the ceremony for pictures before the sun sets so we can't be late!" We are finally all ready and I head to the door to go downstairs to get married (!) and there is a cleaning lady at the door and she's asking if we want service for the room. We're like no thank you, we're good, we're going to get married and she was like "what about your other rooms? You need to take off the Do Not Disturb sign if you want service" and we're trying to explain to her that we don't need it. I'm at the elevator and am yelling down the hallway "NO SERVICE!" But it's so true that on your wedding day you don't even care and everything just works out. It had been raining on and off all day and literally right before the ceremony, the clouds opened up and it was gorgeous the rest of the day!
We get downstairs and the slideshow before the ceremony starts. We're running about 15 min behind but that's actually good because one of my aunts strolls in and starts saying hi to the wedding party out in the hallway. They're like "get in there! It started!" and she trying to play off that she was told that the ceremony didn't start until 3:30 but they hustled her in. My cousin later snuck in after the guys walked in, just before the bridesmaids. *rolls eyes* Our nephew, our ring bearer, was a little fussy and it didn't look like he would make it down the aisle but he did! He got antsy during the ceremony so they took him out halfway through without disturbing people which we appreciated.
I was waiting down another hallway so I couldn't see the wedding party but could hear everyone and once I heard my future husband's voice, I lost it. I started bawling because that's when it really hit me what was happening! (I told my husband what happened later and that's now one of his favourite parts.) When it finally came time for me to walk in with my mom, we came in the room at an angle and then in the middle of the room was the aisle and I was trying to get to the aisle so I could see Collin and my mom was like "slow down" and I was like "no I have to see him!" My mom and I both ugly cried all the way down the aisle but then I pulled myself together for the rest of the ceremony. Our officiant was INCREDIBLE and I will highly recommend him to anyone! We had been able to edit and proofread his speech so we knew what he was going to say and could just follow along rather than hanging on his every word. He told us during the rehearsal to just look at each other and not at him during the ceremony and we did just that and whispered to each other the whole time. He actually stopped at one point and said "could you two stop being so cute?" Haha nope! I realized halfway through the ceremony that we had forgotten my veil! I whispered to my groom and he knows that I'm a perfectionist so he was like "are you ok?" and I just gave him a big smile and said I was great. And it was true! I'm actually glad I didn't have the veil because they did such a great job on my hair and it would have been hidden. We grabbed it after to get some pics and I'm definitely glad I only rented it instead of spending hundreds of dollars on one!
Everyone said their favourite part was the vows. We wrote our own and our officiant printed them out for us so we didn't have to worry about bringing them. (My husband had had a nightmare about forgetting his vows but luckily that didn't happen.) I made it through mine and didn't cry. When my husband got to his, his hands were shaking so bad that he couldn't read them! I was going to hold them for him but didn't want to step on his toes and then a moment later, he paused and asked me to hold them for him. We're always on the same page! We did a unique activity during our ceremony called the "blessing of the rings" or the "passing of the rings." We passed around the pillow with our rings on it throughout the guests so that each guest got a moment with our rings. Our officiant described it this way: "As the rings come to you, they are asking that each of you hold them for a moment and fill them with your best intentions for their lives and their marriage, then pass them onto the next person. When the rings make their way all the way around, come back to me, and then onto each of their fingers, they will contain, in their precious metal, that which is more precious than any metal or diamond, that which is actually priceless: your love, blessings and pledge of support for this marriage."
We did a "quick sign" where we filled in most of the wedding license at the rehearsal except for the signatures which was nice because it didn't take too long or create a lull in the ceremony. After we signed and before we resumed the ceremony, our officiant whispered to us, "you're married now!" and we were both like "omg we did it!" It was a nice little private moment before he announced us as husband and wife to everyone! The ceremony was everything we could have imagined. Our vendors said that they had never seen so many people cry at a ceremony (in a good way!) and everyone has been telling us that the ceremony and our vows were their favourite part! (A side note, we decided to switch the sides of our guests so that they could see us better. I stood on the left but my guests were on the right and they said that they really liked having a better view.)
We went to walk out and I almost forgot to grab my bouquet from my MOH but she caught me haha. Then we had to rush to pictures! We didn't get to go to as many location as we had originally expected but we got all the shots that we wanted. Our videographer had to pack up after the ceremony but then he couldn't find us so he missed the first half of the pictures. Oops! During pictures, our guests went on a photo scavenger hunt through Granville Island to visit some of our favourite spots. We had made a custom Snapchat filter and everyone really liked it!
During cocktail hour, we were able to join our guests and I think we greeted everyone which was great. The venue was beautiful and we had a gorgeous view of the water and the city lit up at night. We all sat down for dinner and we were at a sweetheart table with our family and wedding party at two rounds on either side. We had a lot of people coming up to our table during dinner which was really nice and we still made sure to eat! Dinner service was slower than we expected so it did cut into some of our activities later in the evening but what can you do? The speeches were one of our favourite parts and it was really sweet because in both of our moms' speeches, they said how glad they are to be joining our families together and that they're so glad that they're friends because of us! It truly was so special to see our extended families finally get to meet and that they all liked each other and were so happy about the joining of the families! After dinner, we did a big group photo of the entire wedding! I can't wait to see how it turned out. Our photographer was a dream to work with and was so flexible and open to our ideas. We really loved working with her. After the photo, we played the Shoe Game and went into our first dances. I think they went really well especially since we hadn't practiced in a long time! Our first dance was to "Marry Me" by Train. Then I danced with my "uncle" to "You've Got a Friend in Me" by Randy Newman and Collin danced with his mom to "You'll Be In My Heart" by Phil Collins.
First Dance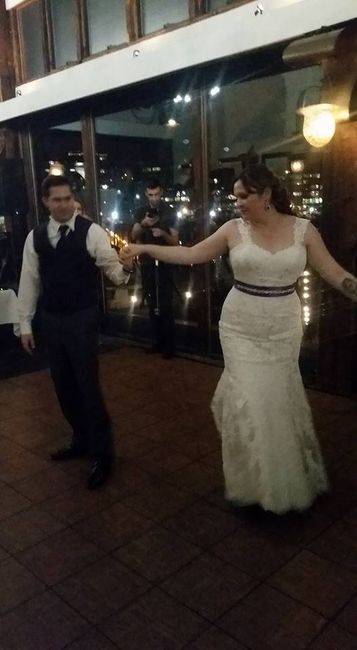 Our cake turned out better than we could have imagined! It was hard to picture what it would look like and I was nervous about not seeing it fully done until our wedding day but it was beautiful! Our vendors said that it was the best cake they'd ever seen, a very high compliment! We had two flavours, salted caramel and cherry chocolate. We actually did pretty well with the cake cutting and managed to get a slice out without damaging it! We fed it to each other and did not smash cake in each other's faces! (That is something we agreed on and we absolutely did not want to happen!) It was really sweet too because our nephew came up after we cut it and my husband fed him a bite of cake! The only issue was that it took the venue a long time to put out the cake and I don't know why. We had a small display cake and then sheet cake in the back that was supposed to be presliced so it would be ready to serve once we were done with our cutting. They had asked us when we first sat down to dinner if we wanted it presliced and we said yes but it seemed like the cake was never coming out. I asked multiple times and my mom asked and they just kept saying it was coming. They ended up serving it at the same time as our late night snack (poutine) which was a little weird. I don't know that everyone got cake because it took so long to come out but the ones who did loved it! I wish I'd had more because I only got a couple bites because we did the bouquet toss right after and I just didn't get back to it. I made sure my husband got a slice though and I grabbed a bite of his so we tried both flavours. The poutine was BOMB and our guests are still raving about it! I had gotten some, took a bite and came back later when it was cold and it was STILL good!
We had thought that we would leave early but we were having too much fun! We stayed until the end and we got to say goodbye to all of our guests and make sure everything was packed up. It truly was the happiest day of our lives and we were so fortunate to have everyone there with us. We had friends and family from England, Canada, California, Colorado, New York, New Jersey, West Virginia, Kansas, all over! It was a once-in-a-lifetime experience to have them all together with us in Vancouver!
For the wedding night, we reserved the penthouse suite in the hotel that we were staying at. It was so fancy! It had 2 bathrooms, a sitting room with fireplace, gorgeous walk in shower, balcony with a great view of the city and a jacuzzi tub in the bedroom! It felt so good after being on my feet all night! My mom had champagne sent up to our suite and it was a great way to end our perfect day!
Wedding Night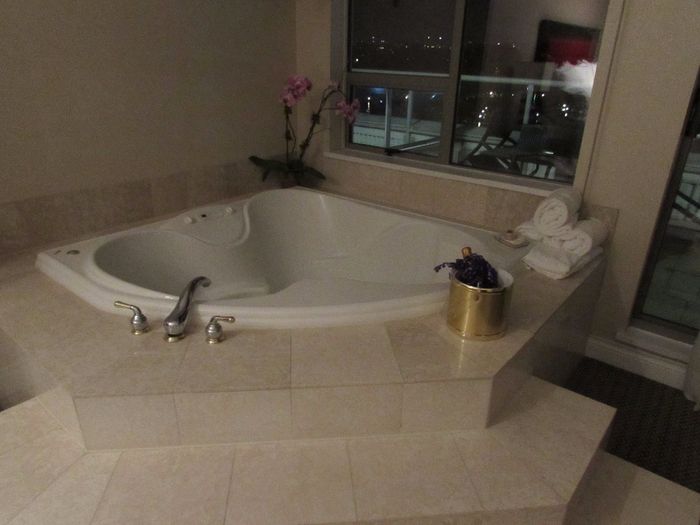 Cont... https://community.weddingwire.ca/forums/bam-wedding-advice--t1446