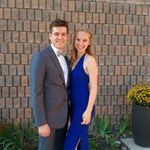 Devoted
November 2018 Ontario
Are you changing your last name?
Hi friends! So I have been flip flopping back and forth about whether or not to change my last name. I love my name, but want cohesiveness with my future children. What are some of your reasons for choosing to change or not to change your last name? The examples are much appreciated! Thanks!
Devoted

July 2019 Ontario

Hello

I do wanna change my last name, i have a few questions first hand. Ok the thing here is I was married before and I like to change my last name Marshall back to my maiden name to change to my new Husband's last name. Is that even possible?

Curious

September 2019 Ontario

I will be keeping my last name - it has very important cultural significance to me, and I would feel weird taking on a new name. I am biracial, but it isn't obvious. My name feels like a big part of my identity, as it is one of the few visual signifiers of my beautiful multi-cultural heritage! So I told my fiancé how much it means to me, and he totally understands why I'm not up for a change We'll sort out the kid stuff when we get there, but I'm not too concerned about having a different last name than our future kids.

Congrats on your new marriage!

Devoted

September 2019 Ontario

Yes, thank you. I will check It out!


Beginner

November 2019 Ontario

View quoted message

You can change your name for free for 90days after you get married in Ontario. Is that what you mean? Just look on the gov Ontario website

Devoted

September 2019 Ontario

View quoted message

Wait, what? Explain, please! I am also in Ontario!

Devoted

September 2019 Ontario

I will be, he's Cutting 5 letters off my Madian name

Beginner

November 2019 Ontario

For me, hyphenating wasn't an option for me, my last name is already long and growing up meeting kids with hyphenated last names, everyone hated it, my cousins have hyphenated last names and they just go by the first one.

Personally, since I'm not a teacher or anything else like that to think about, I'll be changing my name! Mrs. King, who doesn't like the sound of that! plus it's free for me, Ontario perks

Curious

April 2020 Alberta

I will definitely be taking my Fiance's last name. Still deciding if I will hyphenate it or not yet as I have an 11 year old son who may be keeping my current last name.

Expert

August 2018 Ontario

Nope. im keeping my last name.

Frequent user

June 2018 Ontario

View quoted message

I'm not sure how the law is in Alberta, but in Ontario I know that if you change your name within 90 days of your wedding there's no charge!

I just bought my passport November 2017 which has my current last name. I'm changing my name but having a lawyer Notarize that the name on my driver's license (when I have my new last name) and the name on my passport are in fact the same person. That way, I don't have to buy a new passport. Usually, getting someone to notarize for you is super cheap (like, $10, may $20 at the most?). Here's a link to Service Alberta which talks about assuming the last name!: https://www.servicealberta.ca/1184.cfm

Obviously you don't have to change your name, but just a suggestion about the notary!

Frequent user

June 2018 Ontario

Definitely taking my FH's last name. It sounds like a Disney character! I'll be Mrs. Dearing, and I can't wait for us to start our family.

I am personally taking my fiancé's last name because I find it super cute and it makes me happy to think about it. Also just so I can get a sign for above our bed that says "Mr & Mrs Longhorn" because I saw a super cute one online!

I'm in the same boat of my last name dying out with me. My sister changed her last name when she got married and my cousin prefers to go by her mother's last name (legally her last name is hyphenated). I was always leaning towards hyphenation myself because it keeps the name alive and that I've had it for 35years. But my husband is really against it (too much of a mouth full at 18 letters combined).


It's common in my husband's culture for the bride to retain her maiden name but it puts a smile on my face being referred to as his Mrs.

I'm torn and wish it was as simple as the old days (and according to my 92year old paternal grandmother, it is because she expects me to change my name).





Curious

May 2018 British Columbia

I will no doubt be taking my FH's last name. To me it just seems so amazing? Hard to explain. I have a daughter who will have my maiden name, but we will be going through the adoption name change. Lot's of people hyphenate now, but to me it's just the right thing to do for you all to have the same last name.... you're joining their family. however it is the more traditional route and a lot of people aren't going that way anymore.


Expert

April 2018 Ontario

I'm hyphenating my last name, not looking forward to paperwork though lol

Featured

August 2017 Ontario

Why not fuse the surnames and make it unique so it becomes a win win case. Then again, some do keep their last names instead of changing it.

Devoted

November 2018 Ontario

View quoted message

That's crazy. That's kind of like me. I'm one of two daughters, and my uncle had 3 girls, and my one male cousin from my uncle's first marriage, had his last name changed by his mother, so he doesn't even have the family name. But my fiance absolutly wants our children to have his name, so even if I change it (or just cousin changes back his name) the name will die with all my female family lol. Thanks for sharing!

Devoted

August 2018 Alberta

I am still sort of on the fence but I will most likely keep my last name. I love my last name, and it's been part of me for so long. Also, I don't want to spend alllllll that money changing everything that has my name on it, including the passport I just had to purchase!!

I was a little on the fence about this... I really like my last name! And I'm the only child in the family (no cousins that share the name) so my last name ends with me... which is rather sad to think about haha!

But it's also not a big deal for me? I agree it'll be easier with kids and the hyphen will just make my name even longer..

I don't know, I've had this name for almost 30 years I think changing it up will be fun! And thinking Mrs. D'Sousa honestly brings a tear to my eye hahaha!

Beginner

May 2020 Ontario

Changing my last name. 1. When we have kids it's a hell of a lot easier, I work in schools and having kids who have different last names then their parents is sometimes very annoying lol 2. I'm proud to take his last night and enter the Forbes family lol 3. My last name is 11 letters... hyfinated, so I don't want to just add on his and have 3, or pick between my 2 last names (mum & dads)

Devoted

October 2018 Ontario

View quoted message

Haha aw nice! See my last name on its own is 9 letters and my FH is 6. It would be kind of long combined but... I've alao toyed with the ide or adding it in to the end without the hyphen.

Devoted

October 2018 Ontario

View quoted message

Aw that's so sweet! Yeah I feel lucky to have a laid back fiancé who isn't set on the traditional ways when it comes to this. Your dad must have felt so special. Congrats!

VIP

September 2020 Ontario

I know I'm torn about this too. I'm by close to my father so I have no qualms with changing my name, but I'm not that crazy about my fiancée's. She doesn't want to combine names either and both our names are super short so hyphening will sound weird. I have a feeling it'll just be left alone.

Frequent user

June 2018 Alberta

I will be changing my last name. My FH is adopting my daughter so we will all have the same last name. We also plan on having another child so having the same last name will just make life a lot easier when we go for trips and when they start going to school.

Super

September 2019 Ontario

View quoted message

My dad has six siblings, but all of his sisters have different last names now and all of his brothers had daughters!

I made my decision to keep my name a long time ago - long before I met my fiance - and I was lucky enough to find a man who has little enough connection to his family name (his father was adopted) to make this possible.

My fiance has already mentioned to my dad that he might take our name and I could see the love and pride in my father's eyes when they discussed this. It means a lot to me that my fiance would take on such a non-traditional thing for my family.

Super

September 2019 Ontario

View quoted message

My cousin's wife just got her 10 year passport last year and they got married in November. She she's keeping her own name until it's almost up and then they'll decide together if she's going to change it or not. It doesn't HAVE to be an immediate thing. It could be a down-the-road thing.

Devoted

October 2018 Ontario

View quoted message

Not too long at all! I'll do mine 1st then his so Tingle-Stanley. I already use it in simple silly things like WiFi name at home and email name so I'm so used to how it sounds lol

Devoted

October 2018 Ontario

View quoted message

Glad I'm not the only one that feels this way!! I was really close with my grandfather and I feel like it's one of my last connections to him. My dad is also an only child with only daughters. And my sisters both took their husbands last names.

Devoted

October 2018 Ontario

View quoted message

This is what I want to do! How long will your last name be with both?

Devoted

October 2018 Ontario

I'm hyphenating my last name. I'm my dad's only child and I have his last name. I felt like I'd be "erasing" him as he doesn't have much family either. Fought long and hard with my fiancé for this one!

Devoted

August 2018 Ontario

I want to but it will be a hassle Doing it for cohesive purposes. Although still weighing the pros and cons. Like I just. Got my passport renewed for 10 years. So got to figure it out.

I'm changing my last name. Reasons are the same as others have stated: cohesiveness with family, he asked me to, traditional, simpler name, it's what I always thought i'd do.
I will be continuing to use my maiden name at work though, since people already know me by that name.
Groups
WeddingWire Article Topics