Post content has been hidden
To unblock this content, please click here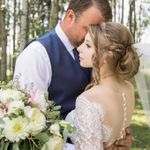 Devoted
July 2018 Alberta
Addressing plus one & couples
Hey ladies, so I finally got my invitations in the mail but I'm stressing out about how I address them. Do I write Justin & guest on the rsvp? The rsvp envelope? The main envelope? Do people just naturally know to put down a plus one if it's addressed to one person? Will they know I'm only addressing the two that I've indicated on it? So confused ! Any advice or input to what you have done would be greatly appreciated, I need to get these out ASAP!
Latest activity by Lyla, on February 26, 2018 at 15:04
Devoted

July 2018 Alberta

Thankyou ladies! We ended up writing their "name and guest" on the back of the rsvp and the main guest's name on the main envelope

Frequent user

March 2018 Ontario

I wrote it on the main envelop.

Newbie

May 2018 British Columbia

For me, not everyone got a plus one.so I made separate little slips saying that they were invited to bring a plus one and put it with their invitation.

Frequent user

September 2018 British Columbia

I got my invites professionally made so it indicates they can bring a plus one without having to write there name & guest

Frequent user

September 2018 British Columbia

If your guests want to invite a plus one most likely they will. No need to stress over it by making sure that u are addressing your guests to do that. Your rsvp will indicate how many number of people attending so you will be fine.

We wrote it on the main envelopes.

Beginner

January 2019 Alberta

If we were allowing a guest but didn't know the name, we would put "and guest". If we knew the name, we would write names. We did this on the main envelope and on the RSVP card. On the RSVP card we put "We have reserved ___ seats in your honor" so they knew how many people were invited.

Expert

November 2019 Ontario

Id write "name plus guest" on envelope. If it doesn't say that, people might not necessarily assume from RSVP (I wouldn't myself, because usually people just use general RSVP cards for ALL guests; I would just think it was there for the guests who DID get plus ones).

We wrote it on the main envelopes.




I wrote the names plus guest on the main envelope and on the back of the card as well. So if your guest was Justin, I wrote "Justin and Guest" to ensure they knew they had a plus one, otherwise we just wrote the name of the guest.

I think you could still include a handwritten line with the number on the RSVP.

I'm guessing you are handwriting their name under "Response". Under their names, you could also write "__ of 2" (or however many people are being invited).

Typically people should assume, if their name is on the card, then they are invited if its not then they aren't!




If I were single and I received an invite addressed to just me, I would assume its just me! If it said and Guest I could find a hot date.

Devoted

April 2018 Ontario

View quoted message

Hmmmmm, yes i see. There is definitely room for confusion. You might just have to take a chance and start to see how people respond before you figure out if you have to follow up with people regarding guests. Hopefully people will figure out to indicate guest or no guest, but you never know.

Devoted

July 2018 Alberta

This is my rsvp. My concern is that if I write on the line which sounds like what you're talking about, if they end up not wanting a guest then would they just cross that out? Or just write on their envelope to send back to me? The number of guests would have been an awesome idea, unfortunately it didn't even cross my mind until I started searching up this topic! Lol

Master

September 2017 Ontario

I would put it on both the RSVP and the main envelope. If you do not put "and guest" most people assume that you are not allowing them a plus one.


Devoted

April 2018 Ontario

If you are giving them option to bring a guest i would suggest writing Justin and Guest on the RSVP. Does the RSVP have a spot to indicate how many people will be attending? If you are really worried, then just do both, put it on the main envelope and the RSVP card.

Be sure to address the others by name, so To Justin and Jennifer... so there is no confusion about who you are inviting. If they aren't allowed to bring a guest, then address is just, To Justin.
Groups
WeddingWire Article Topics