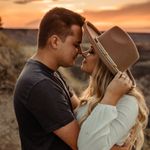 Darbi
Banff, Alberta · From May 2020
We first met in the summer of 2014 as coworkers. Working together day after day, our friendship grew. We've shared multiple adventures, travelling to nine... View more
We first met in the summer of 2014 as coworkers. Working together day after day, our friendship grew. We've shared multiple adventures, travelling to nine countries together. We've backpacked through the United Kingdom, lounged on white beaches, snorkeled in the sea and toured America in our VW van. Seven years later, we're best friends, true loves, and equal partners in life. We're finally ready to tie the knot! 
Happily married 🎉
August 6, 2022

Audio Guestbook- worth the money?
Hey everyone! We've been really debating whether or not we should do an audio guestbook. I love the idea of being able to listen back to messages from my grandparents and other family members but to...

Honeymoon in Vietnam
My fiancé and I have always dreamed about travelling to Vietnam together- our first date was to a Vietnamese restaurant! Has anyone ever been? We are planning to backpack and island hop but I would...