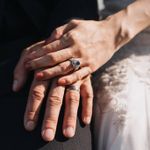 Ap2017
Harrow, Ontario · From July 2016
Happily married 🎉
September 23, 2017

Best liquid lipstick?
Hey ladies! Does anyone have any suggestions about the best liquid lipsticks/stains out there? One that won't dry my lips out but also won't transfer? I've tried a few but so far they haven't fit the...

Speeches
I need some input - what is the typical order for speeches at the reception? Everything I google gives an old school response that traditionally only the men speak (fathers, groom, best man)...which...

We got married!
We got married! September 23rd was the most perfect day! We got a few sneak peeks (below) and I thought I would share Sneak PeekSneak PeekSneak PeekSneak Peek


4