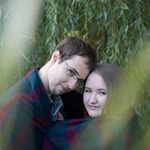 Valerie
Bourget, Ontario · From January 2016
J'ai renconté mon fiancée en été 2008 l'or d'une activité que nous avions en commun L'écho d'un Peuple, mais nous avons seulement commencer à sortir... View more
J'ai renconté mon fiancée en été 2008 l'or d'une activité que nous avions en commun L'écho d'un Peuple, mais nous avons seulement commencer à sortir ensemble en avril 2013 suite à plusieurs renconte à l'école, ciméma, ... Mon amour à fait sa grande demande le 14 février 2014 après ma soiré de fille au ciméma pour voir Fifty Shade of Grey, c'était très romantique avec un texte qu'il a composé par rapport à des film de Disney (Tandis que je suis une très grande fan de film Disney). Maintenant nous organisions notre mariage sur le thème de Disney.
Happily married 🎉
July 22, 2017
Wedding details
Nous allons nous marié sous le thème de Disney. Notre Mariages va être en après-midi à l'église. Nos membres du cortage seront habillé de différente couleur (dans les teinte de mauve, bleu à turquoise) et pour le filles avec des robes différente. Pour la salle de la réception il va y avoir des clins d'oeil de différent film de Disney, chaque table va avoir son film, des films de princesse à des films de super héro.
Wedding Website:
https://www.weddingwire.ca/web/valerieandmathieu
My real wedding
We got married under the Disney theme. Our wedding party members were dressed in different colours (in shades of mauve, blue to turquoise) and for girls with different dresses....
View my Real Wedding
B&W
Beige
Black
Blue
Brown
Burgundy
Fuchsia
Gold
Green
Grey
Orange
Pink
Purple
Red
Silver
White
Yellow

Winter
Spring
Summer
Autumn

Beach
Countryside
Elegant
Modern
Night
Open air
Rustic
Vintage

Honeymoon

Dominican Republic
Discussions I've participated in
83




6
Disney Princess - What dress do you identify with?
Hey lovely brides-to-be! The first question of the quiz: What Disney prince is your FH. We start with the most important topic. What wedding dress would you choose? 1. 2. 3. 4. 5. 6. *** pinterest...
Sarah,

tuesday 13-Mar-18
33




6
Disney Princess - What ring would you choose?
Hey lovely brides-to-be! Did you answer all the questions? If you want to go to the start, click here: What Disney prince would your FH be. What ring would you choose? 1. 2. 3. 4. 5. 6. *** pinterest...
Sarah,

tuesday 13-Mar-18
33




6
Activity
Groups
WeddingWire Article Topics