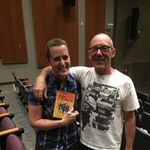 Kayden
Montreal, Quebec · From July 2018
Happily married 🎉
October 31, 2020

Liquor license and diy weddings in Quebec
Kayden
, On June 17, 2019 at 13:40
Hey! We are looking to get a liquor licence for Sarto Des Noyer in Dorval, Quebec. Would any one know the steps? And how long it takes? We looked online but all the information is in French.

lgbt Wedding
Kayden
, On August 18, 2018 at 11:45
Is anyone out there planning a gay / queer / trans / LGBT wedding? My partner and I are starting on the planning stages, and because there's so little info out there, we're basically making it up as...