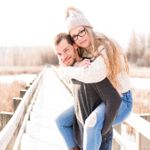 Annieroydube
Ottawa, Ontario · From January 2022
🕐 WEDDING COUNTDOWN...
September 22, 2024

Ceremony Time and Length
Hank
, On January 19, 2022 at 11:00
What time is everyone having their ceremony: earlier in the day or closer to the reception? How long do you plan your ceremony to be? Do you have any specific elements in your ceremony that you'll be...