Katrina
Hamilton, Ontario · From October 2021
🕐 WEDDING COUNTDOWN...
October 15, 2023
Wedding details
Discussions I've participated in
12

Time to Share - How Did You Meet your Fh/spouse?
Julie
, On February 13, 2023 at 12:41
Is it just me? Or are you also feeling extra lovey this month cause of Valentine's Day? Let's share how we met your significant other. I met my FH on a dating app 7 years ago. I saw his profile and...
Jessica,

thursday 16-Mar-23
97
3
October 2023????
Nicole
, On October 9, 2022 at 21:31
Who's having a fall wedding?!? We are and just booked the venue for the 20th so so excited
Laina,

friday 6-Jan-23
71
6

Are items a must in your photos?
Carine
, On October 7, 2022 at 14:08
I was seeing pictures of wedding items and was wondering if that was a decision, a recommendation or just something your photographer took as a spare? Is this a must have on your list, do you regret...
Carine,

thursday 10-Nov-22
21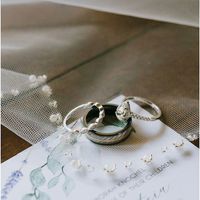 Activity

I participated in Julie's discussion
28 days ago
3 pt

I participated in Nicole's discussion
162 days ago
3 pt
October 2023????
I loooove autumn colours. That's going to be gorgeous! I love the idea
...
Go to the discussion
Groups
WeddingWire Article Topics