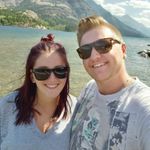 Karly
Edmonton, Alberta · From October 2020
🕐 WEDDING COUNTDOWN...
August 13, 2022

Reception Venues - Edmonton
Hey everyone! I'll be getting married in August 2022 in the Edmonton area. The ceremony is already booked and will be at the Red Tin Barn. I'm currently trying to restart my planning and know I need...

Thoughts on Pretty Robes?
Hey everyone! I'm just curious if anyone has ordered from Pretty Robes, and if you have, what was your experience like? I ordered 5 robes from them just over a week ago to use in my bridal party...