When do you ask your Wedding Party? How formal should it be?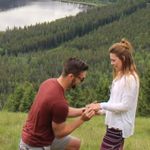 Beginner
May 2019 Alberta
When do you ask your Wedding Party? How formal should it be?
I got super excited when I first got engaged and asked some girl friends right in the first few weeks. I feel I may have done this too early. Also I haven't formally asked anyone but how should that be done? Gifts?
Latest activity by Vinod, on January 24, 2018 at 20:05
Featured

August 2017 Ontario

Our MOHs and Best Mans were chosen based on how close we are to them and being as a family member in a way.
We didn't give anything until the wedding day (only had to pay the taxes at shoppers sincw thw points were used after building up so many).

Master

September 2017 Ontario

It doesn't have to be formal at all and gifts aren't required. I asked my BMs via text/e-mail as they both live far away. I think you could just invite them each out for coffee or a drink and ask them. Straight-forward and easy.


Expert

August 2018 Ontario

Hi Stephanie,

My bridal party is 5 - 4 of them knew right away they were going to be in my wedding and I was really nervous to ask the 5th because I honestly didn't know if she wanted to. I ended up having to ask her by text last week because she sent me a save the date she had got for a wedding the day before mine in Nashville saying not to worry she would still be at my wedding! I had to ask her over text before she booked any flights and she was ecstatic - although I told her we could figure out how she can do both she's no longer going to the other wedding because she doesn't want to leave me before my big day (so sweet). I am so relieved everyone knows now.

Although they all either knew or got asked awkwardly I put together a little basket with wine and champagne and a little card telling them why I love them and I'm giving them out as I see the girls for drinks/coffee dates etc.


I can imagine it may be hard asking people far in advance. Hopefully everything sorts itself out for you (and you can always have co-maids of honour if you can't decide!)

Expert

August 2018 Ontario

View quoted message

This is super cute Tracy!

Frequent user

October 2017 Ontario

I asked them each separately. I had personalized wine glasses from Etsy made up for them.

View quoted message

I definitely know what you're dealing with. What I did was I sat down and looked at who I picked, then thought about whether or not they are the people I will look back at and be happy that I had them standing with me. My original MOH was causing so much issues I had no choice but to fire her. I replaced her with who should have been MOH all along! So I'm super happy with that choice. My advice would be to choose the best friend who you're closer with or who you have known longest. Goodluck!!

Beginner

May 2019 Alberta

Thanks Holly,

I'm having sorta the same issue, the wedding is so far away. I asked my sister to be my maid of honour and she ended up stepping down for personal reasons. Now I have to choose between two best friends for the maid of honour. I picked my party too fast and I regret the choices I made.

I also jumped in really quick to asking mine. Ended up not that great for me as I ended up firing my maid of honour. So instead of 5 I have 4. But I gave them all a little box that said "sh*t just got real, will you be my bridesmaid" with a wine bottle tag, a mixed shot and some chocolate. I think wait till you have your date and venue set then ask officially. You can give them a gift if you want it just plain and simple ask them, either one they will be happy.

Devoted

September 2018 Ontario

I asked my girls at our engagement party! I gave them each a fancy box with a ring pop, a framed photo of us, some rose gold knot earrings, and nail polish in our wedding colours.

I haven't asked them yet and the wedding is in July. But I won't go too formal. Just call them and ask

Beginner

May 2019 Alberta

View quoted message

Thanks Candice, I like the idea of asking them in a card. All of my wedding party lives in different cities, so going for coffee is out of the question. All of my party sorta knew they would be but they seem to expect a more formal invitation, or that's what they said. Thanks for the advice!

I asked as soon as we picked a date, but everyone I asked to be in my wedding party has known forever that they would be in it so I didn't really have to ask in a formal way. I just gave them each a card explaining why I chose them to be in my wedding party and gave them each a "getting ready robe" and some other small things as a present.

Frequent user

September 2019 British Columbia

I did the same thing. I only wanted 5 (my two best friends as co MOHs, my sister, and my fiancé's twin sisters). But then he needed 6, so I had to choose who to add. I'm regretting my choose juuuuust a little bit. I'm sure it'll work out, she's just had a really rough few months. Our wedding isn't for ages so I'm not worried.

I felt like k had to choose the 6th right away because I'd already told the other 6, who were all obvious choices, and didn't want #6 to feel left out or like an after thought.

I asked the first week. Our engagement is 10 months and I wanted to ask them before we went dress shopping (which was the weekend after I was engaged).

I didn't do anything special. Asked one at supper, one when we went for coffee, and the other over FaceTime because she lives out of province.

Frequent user

May 2019 Quebec

OMG I am in the same boat, I figured I would start asking this year since we're getting married 2019. I'm just on the fence about gifts. I want to do a cute box but I don't want to spend a fortune either

Super

July 2018 British Columbia

I asked my friends over a year in advance of the wedding (we have a long engagement)... I think if you are set in who you want then go ahead and ask but it doesnt hurt to wait if you arent sure yet!

I didnt do anything formal... I asked each at different times when we were out for coffee or a walk or something and was basically like "hey so do you wanna be my bridesmaid?". Worked really well and everyone was very excited haha.

I don't think that it's ever too early! Gives your friends lots of time to plan. My best friends both knew they were going to be apart of my wedding even before I asked them! I didn't ask my bridesmaids with gifts but I did for my maid of honour. I'll have special gifts made for them all for the wedding day.
Groups
WeddingWire Article Topics