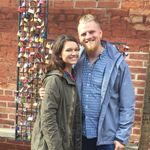 Frequent user
April 2018 Ontario
When are you having your bachelorette?
Just curious how far before the wedding everyone is having their bachelorette? Some of my bridesmaids want the weekend before the wedding weekend but I'm worried that weekend may feel too busy?
Latest activity by Katie, on January 11, 2018 at 10:14
Frequent user

October 2018 Ontario

Mine will be about a month before our wedding. We're getting married October 12 and it will be the weekend of September 15th. The date was picked mainly by the availability of where we're going. One of my best friends/bridesmaids is also getting married in July and we have a lot of the same wedding party so I wanted to have all my events after her wedding to help spread things out for the other girls and not make them plan a ton of things for both of us at the same time.


I am doing mine 10 months before the wedding because the stag and doe, bridal shower and vendor meetings will keep me extremely busy closer to the wedding.


Frequent user

October 2017 Ontario

I had my bachelorette the weekend before the wedding. When my MOH first told me I was slightly worried because I thought it was way too close and I would be too busy.

In the end I loved that it was the weekend before the wedding. The wedding planning was on track and ready to go so there was no need to be worried.

Frequent user

September 2018 British Columbia

We are getting married September 1 & doing my bachelorette July 26-30.

I Didn't want it too close to the wedding, especially since our wedding is out of town. Gives people a little more time to plan financially!

I am lucky enough to have two (my mom and her friends have planned one as well as my MOH)... One is 3 months prior and the other is one month prior...i specifically asked to not have any closer than that because i am doing a lot of DIY and want to keep those weekends open

Expert

November 2019 Ontario

We're doing a November wedding but I wanna use FH's uncles beach house for bachelorette. So it'll be the August before!

Frequent user

August 2018 Ontario

I would think I would want mine to be quite a bit before the wedding, way less stress and I would actually be able to sit back and enjoy myself!

Expert

August 2018 Manitoba

Well not sure what will be planned for the bachlorette party but we are getting married in August and in May my FH and I are going away to Vegas to go see Pink in Concert. This weekend also corresponds with the American long weekend which one of my bridesmaids said she would drive to Vegas as she lives about 5 hours away and my Maid of Honour's 30th birthday is that same weekend so it might be an even more wonderful weekend. I don't know about the other 2 bridesmaids but with my 2 best friends, my FH and potentially their spouses it will be good. My FH will just have to find something a little more in common with their spouses as the 3 of them are all very different. Go figure.

Frequent user

August 2018 Newfoundland and Labrador

I'm having mine 2 weeks before the wedding because that's when everyone is available.

Frequent user

July 2018 Saskatchewan

I'm planning on having mine about 4 weeks before the wedding, I think that will be a good time and I will still have time afterwards to worry about wedding stuff!

Curious

August 2018 Ontario

4 weeks ahead. I am a very planned person and don't want to be stressed about not having anything done for the wedding first lol

Mine will be two weeks before our wedding. Only because my 30th birthday is a month before our wedding. It will be a crazy next few months lol

January - engagement/housewarming party,
February - sending the invites
March - my bridal shower
April - my 30th birthday
May - our wedding.

I'm loving all the party planning!!

My FH pointed out.. he didn't want to have this bachelor party the weekend before, so that way, any injuries have time to heal before the wedding. like a black eye.




NO idea what they are planning to get up to.




But really - I'll be doing mine fairly early.. 2 months ahead or so as that's when people are available.

Beginner

July 2018 Quebec

I'm doing mine 2 weeks before. I figure that way I'll still be able to get last minute things done

Mine is 3 and a half weeks before the wedding give or take.

Frequent user

February 2018 British Columbia

My bridal party planned mine for about 3 weeks before the wedding as they know I would probably be too stressed if it was closer plus the day worked well for everyone. Plus that way there is time to recover and everything if things get a little crazy

Master

September 2017 Ontario

I did mine the weekend before the wedding as that is when everyone was available and it was also while my husband was at his bachelor weekend. Mine was only an afternoon and evening thing.


Super

September 2018 Alberta

Mine will be a month or 2 before the wedding. I feel like the week before would make things a little too stressful for me haha

Super

September 2017 Ontario

I had mine about a month before my wedding. I didn't want to deal with doing it too close since most of my free time leading up to the wedding was spent coordinating/planning.

We were going to do a combined bachelor/bachelorette but most of our party is from out of town and won't be getting in until the day before the wedding so we likely won't be having one.

Super

August 2018 Alberta

I'm doing my bridal shower 2 months before the wedding, and my bachelorette will be 2 weeks before the wedding.

I knew I wouldn't want my bachelorette that close to the wedding, there's just too much to do. So I told my girls that I wouldn't go any closer to the wedding than 2 weeks before. It doesn't help that pretty much the whole 2 months before the wedding are actually going to be fairly busy, so we were limited on when we could plan things for.

I'm still on the fence about doing a bachelorette, we are thinking of doing a joint shower but he still wants his guy night, but I'm not sure if I want a bachelorette. I also agree the weekend before might be a bit hectic so maybe like 1 month before?

I would like it to be about two months before. That's what I did when I planned it for my friend and that was good timing for her.
Groups
WeddingWire Article Topics