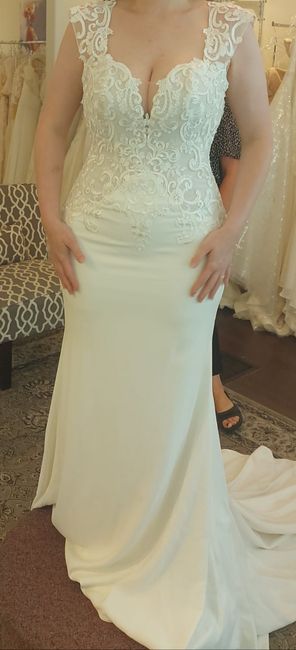 Sooooo, I bought my wedding dress a few weeks ago and now I am starting to have some doubts. Everyone was hyping me up and telling how pretty I look and that this is THE DRESS. It was the only one left in the store. It was a deal too, I paid like 1015$ and I like the material, it's a crepe dress and it felt really nice.
However now I have doubts... I will have to do alterations (the basics: sleeves, shorten it and a bit in the back to make it lower) but no sure about what other alterations can be done and how much it will cost, with the price I paid I don't mind paying a bit more for the alterations, but my wedding will be small so I don'twant a 5k dress either which is why I got this one at first...
I don't hate the dress, I like how it looks on me but I don't know, the lace kind of throw me off I think...I would like the lace to stop at the waist... would that be possible? Online it sounds like everything is possible but I find it hard to believe they can do it... I would like something like below, not exactly like that but to have an idea... what you guys think?