Hello Lovely Ladies!
I posted something a few weeks ago mentioning that Vistaprint had a 50% off sale, and I had ordered all of my wedding invitations. Some of you wanted to know the quality once I received them in person... well let me tell you...
We love them! They feel great, I got the standard matte, and it is a great, sturdy quality card stock. Nice, soft finish, and great colour. We got the 'northern lights' style, in the blue (comes in purple, green or blue theme). We ordered 70 invitations, 70 details inserts, 10 RSVP cards (just in case, doing E-RSVP), and return address labels. Every invitation & insert came with its own envelope (so 150 envelopes total), correctly sized to each item. The return address labels are adorable, clearly printed (I've blurred the address), and a nice, glossy finish.
The RSVP cards are quite big for just an accept or decline, but they originally had menu options on them. The Vistaprint layouts are EXTREMELY customizable, and we don't have menu choices, so I could delete them and make everything else bigger. Every other online builder I tried would not let me delete the menu options, and didn't have any layouts without them. But they are really nice quality, and also makes it more substantial to mail back.
Overall I'm super stoked with it. Waiting for the 50% off sale, I got the entire order, with shipping & taxes, for $80. You can't beat that! The 50% off sales are much more rare, but they often have 30-40% off around holiday weekends. INVITE25 is a constant promo code to get 25% off wedding stationary.
I've included the photos of my actual invites. I just love them, and can't wait to send them out now!
Any other questions, just ask!
Fronts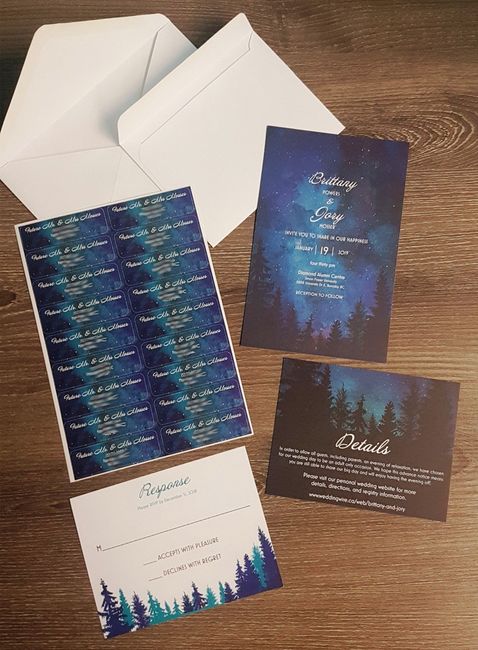 Backs