Post content has been hidden
To unblock this content, please click here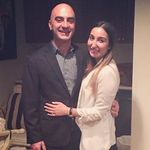 Frequent user
October 2018 Ontario
Venue: important questions!
Hello everyone! What are some important questions to ask when touring a venue? I have all the costs and packages they offer but I feel like there is other stuff to know! Thanks in advance!
Latest activity by Samtam, on January 25, 2017 at 15:24
VIP

November 2016 British Columbia

That's so exciting! Congratulations!

This thread is full of great info! Thanks for starting this discussion, Jessica 😊

Frequent user

October 2018 Ontario

Ok so I think I'm going to take the plunge and book a venue! Cardinal golf club seems to be the one we keep coming back tooIt's also centralized so it's easy for all of our family and friends to get to! A beautiful outdoor ceremony area and the reception room has floor to ceiling windows that look over the golf course and greenery! Needless to say we are in love!

Hi Jessica! You can take a look at these discussions and articles for ideas:

6 hidden costs you should ask your venue about

5 Things Every Couple Should Know Before Booking Their Venue

Does your venue include cake cutting fees and tear down?

Certainly something to consider! I made a chart to help me keep track of who charges what when I was deciding venues.

Let us know where you choose! And take lots of pictures- you'll be happy to have them to refer back to when planning set up and decor

All great options! I've been to Hockley numerous times for weddings and always been great! Be careful with wineries or estates. Sometimes they have a noise by law requirement of 11pm. Let us know how you make out.

Frequent user

October 2018 Ontario

One of the venues has a minimum for food and a venue fee on top. It's a little outrageous as most of the other places I saw the fee was included in the per person fee and it was half the cost!

Frequent user

October 2018 Ontario

I will for sure be asking about the multiple wedding thing. That's a red flag for sure. The menu is huge to as we want vegetarian options. I know most places accommodate now but always good to be sure! We are looking at hockley valley: as its so close! But it's a little on the pricey side. We are still going to go and have a look. We went to visit Erin estate weddings (also very close) but everything is outside and I'm not sure that's gonna work with the heel thing. The one I'm hoping goes well is Cardinal golf club in Newmarket. Have an appointment with them next week. Fingers crossed! Thanks again for your input!!

Perfect! Looks like you've got it covered!

Great points Lisa! I forgot about minimums, and never even considered sound proofing!

Worth noting my venue didn't require a headcount minimum, But we must spend at least $xx.xx in food and drink (which we will more than double...so no biggie )

All of Sam's points are great ones!!!
The only other points I would add would be: Do they have a guest minimum? Ours we had to guarantee 150ppl.
Also if it's space that can have more than one wedding in one day, you can ask if the walls are somewhat soundproof (most venues do not have complete sound proofing). You don't want your DJ and other DJ's playing music at different times and have the misc overlap. If the hall is good , they will have someone there to make sure all weddings proceed with the same schedule so the music isn't the problem.
Would also ask about menu and how they are accomodating allergies, food substitutions etc.
Noticed you are from Orangeville. I grew up there. What venues are you thinking of?
Hope this helps!
Lisa

VIP

November 2016 British Columbia

Happy to put my event planning experience to use! I love the idea of an outdoor ceremony and indoor reception. You might want to check wineries as well.

Ask them what their "Plan B" would be for the outdoor ceremony if it's raining. Are they able to tent the area? Can they host the ceremony inside if needed and flip the space?

I'm not sure what your plan is for getting ready but some venues have rooms available so you can get ready onsite.

Keep us posted on how your appointments go! And take lots of pics while you're there so you can use them for reference later!

Samtam is right on the money! The only other thing I think I asked was if they had any agreements with surrounding hotels for blocking rooms (mine doesn't, but some do!)

Frequent user

October 2018 Ontario

Oh my gosh! Thank you Samtam! I will definitely write these down! I'm looking for a venue with an outdoor ceremony and an indoor reception. I want to keep everything in one place. I've been looking at estates and golf courses. We've been on one already and have one tomorrow and one next weekend. I'm trying to come up with questions to ask so we can choose the best place! Thanks again for your help!

VIP

November 2016 British Columbia

Hi Jessica! I found a bunch of used wedding books at my local bookstore and got some good questions from them. Some things to keep in mind:

What's included? What's additional and for how much?

What restrictions do they have? (Ex: no rose petals, no candles, etc)

How late can you stay? (Some areas have noise restrictions so you can only stay until a certain time.)

When would the space be available for you to decorate? Can you set up the day before or will it need to be done on the day of?

If you're using the same space for the ceremony and rehearsal, how long does it take for them to reset the room? Is there a place for your guests to wait/hang out while the room is being turned?

What's the max capacity for the space?

When are deposits/final payments due?

What are their cancellation policies?

Who will be your day-of contact? (For after you've booked them- You may be working with one person during the planning process but they might not be there on the actual day of the wedding so who should you contact if you need something on the day of your wedding?)

And if you're still looking for other vendors, most venues have a "preferred" or "recommended" vendor list that they can give you. If they're on the list, you know that they're familiar with the space and the venue vouches for them!

Do you have any appointments set up to tour venues? What are types of venues are you looking for?
Groups
WeddingWire Article Topics